Granger Construction has a long-running internship program, employing college students each year in the office and on-site at various projects. Meet Alaina Schrauben, a member of Granger's 2019 Summer Internship Program.
Name: Alaina Schrauben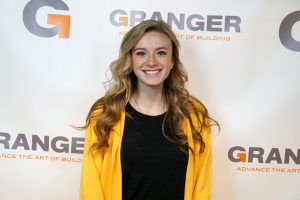 Hometown: Portland, Michigan
School: Central Michigan University
Field of Study: Marketing
Year at School: Freshman
ABOUT ALAINA:
Alaina was stationed in the Lansing office this summer, working closely with Granger's Marketing and Communications team. "I [was] most excited to get to learn from several marketing professionals, as well as learn a lot more about the construction industry as I progressed through the summer," noted Alaina. During her internship, Alaina assisted with projects such as creating content for blog and social media posts, managing the weekly Granger Voice Newsletter, submitting award applications and helping design infographics.
Q: How did you decide on your field of study?
A: "I decided on marketing as my major because I enjoy being creative, working with other people in a team setting, promoting other people, as well as being strategic. All of these factors come into play in marketing, so I decided it would be a great fit for me."
Q: How do you think this internship will impact your future goals?
A: "This internship will allow me to be ahead of my colleagues while I am taking my core marketing classes, as well as be able to compete for future jobs and internships while being so young. It will also allow me to figure out what kind of industry I will want to work for once I graduate."
Q: What is one fun fact about yourself?
A: "A fun fact about myself is that I have been out of the country 3 times, and I enjoy watching college softball and basketball."