Granger Construction has a long-running internship program, employing college students each year in the office and on-site at various projects. Meet Angelina Placido, a member of Granger's 2019 Summer Internship Program.
Name: Angelina Placido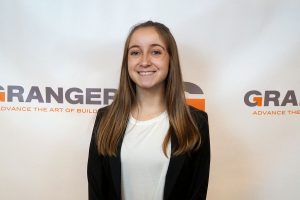 Hometown: Brighton, Michigan
School: Michigan State University
Field of Study: Civil Engineering
Year at School: Sophomore
ABOUT ANGELINA:
Angelina was stationed in the main office this summer, working on several Michigan State University projects as a Project Engineer Intern.
"I [was] most excited to see the process behind construction work, and how everything is pieced together behind the scenes", noted Angelina. During her internship, Angelina managed many tasks, including RFIs, submittals and sometimes even helping with submitting bids.
Q: How did you decide on your field of study?
A: "I knew I loved math and solving problems, so engineering seemed the most interesting to me."
Q: How do you think this internship will impact your future goals?
A: "I am hoping to get a better idea at what I want to do within the civil engineering field."
Q: What is one fun fact about yourself?
A: "A fun fact about myself is that I play the trumpet in the Spartan Marching Band."