Granger Construction has a long-running internship program, employing college students each year in the office and on-site at various projects. Meet Brian Ziemba, a member of Granger's 2019 Summer Internship Program.
Name: Brian Ziemba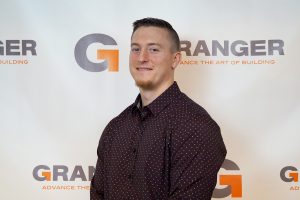 Hometown: Westland, Michigan
School: Eastern Michigan University
Field of Study: Construction Management
Year at School: Senior
ABOUT BRIAN:
Brian was placed on the Dexter Schools Project as a Project Engineer Intern this summer. He noted he was most excited to get useful experience in his career field while determining what route he wanted to take his degree. During his internship, Brian helped his project team with submittals, RFI's and other duties on the site.
Q: How did you decide on your field of study?
A: "I did not like my previous undergraduate degree and had construction experience as a laborer. I figured since I knew a lot about it, I would change my major to Construction Management."
Q: How do you think this internship will impact your future goals?
A: "This internship will give me expectations of how I am compared to my knowledge, letting me know how soon or far I am from a promotion."
Q: What is one fun fact about yourself?
A: "One fun fact about myself is that I enjoy working out."