Granger Construction has a long-running internship program, employing college students each year in the office and on-site at various projects. Meet Kevin Bywalec, a member of Granger's 2019 Summer Internship Program.
Name: Kevin Bywalec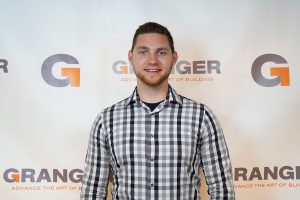 Hometown: Dearborn Heights, Michigan
School: Bowling Green State University
Field of Study: Architecture & Construction Management
Year at School: 5th Year Senior
ABOUT KEVIN:
Kevin was stationed at the University of Michigan Dearborn Engineering Lab Building Replacement project as a Project Engineer Intern. He noted he was most excited to utilize PlanGrid construction document software during his internship, and looked forward to watching the project progress over the summer. During his internship, Kevin's daily responsibilities included managing change orders, RFI's and submittals.
Q: How did you decide on your field of study?
A "My family owns a landscaping company, which has made me enjoy working hands on, operating machinery and designing. I also enjoy being outdoors and the ability to stand back and see progress being made, so I thought Construction Management/Architecture would be a great fit for me."
Q: How do you think this internship will impact your future goals?
A: "My ultimate goal is to work my way up to being a field Superintendent. I have a strong interest in working as a laborer foreman to start off, so I can manage my experience and be able to plan ahead to determine materials and man hours required. I want to learn all sides of the construction industry."
Q: What is one fun fact about yourself?
A: "A fun fact about myself is that I am an Eagle Scout."