Granger Construction has a long-running internship program, employing college students each year in the office and on-site at various projects. Meet Sam Sponseller, a member of Granger's 2019 Summer Internship Program.
Name: Sam Sponseller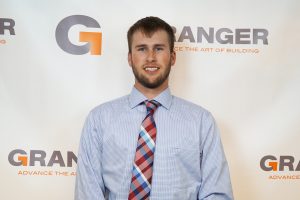 Hometown: Shepherd, Michigan
School: Ferris State University
Field of Study: Construction Management
Year at School: Junior
ABOUT SAM:
This summer, Sam was stationed at the North Lake Correctional Vehicle Pavilion project as a Project Engineer Intern. Sam was one of only two team members working on this project, joining Granger Senior Project Manager, Todd Butler. His daily tasks included RFI's, submittals and anything else that needs to be done around the jobsite.
"I [was] most excited to learn more about everything that goes into managing a construction project", noted Sam.
Q: How did you decide on your field of study?
A: "I realized that I am fascinated with how things are built and I really enjoy construction work."
Q: How do you think this internship will impact your future goals?
A: "I hope that this internship will help me to decide what path in the construction industry I want to take, whether that is a Project Manager or Superintendent route."
Q: What is one fun fact about yourself?
A: "A fun fact about myself is that I enjoy getting up every morning and going to work."