Rise-N-Run system is one of only handful in U.S.
Once completed, the University of Michigan's Stephen M. Ross Athletic Campus Athletics South Competition and Performance (ASCP) project will be the archetype of a modern Olympic training and performance facility.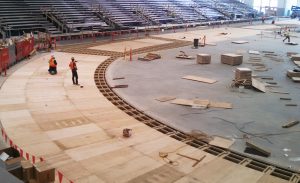 The $168 million project, currently being built by Granger Construction, will be home to men's and women's track and field, cross country, lacrosse, soccer, and women's rowing. It includes a lacrosse stadium that will accommodate 2,000 spectators, indoor and outdoor Division 1 NCAA track competition venues, an indoor rowing tank and a 56,000 square-foot Sports Performance Center. The outdoor track venue will feature a 400-meter outdoor track with all NCAA field event venues. The indoor track facility will feature what some have called a "throws palace" and one of only a handful of 200-meter hydraulically controlled banked indoor tracks in the U.S.
Cutting-edge indoor track
The 100,000 square-foot indoor track facility is one of the most advanced features of the ASCP project. Upon opening in 2018, this facility will be home to one of only nine hydraulically operated banked track systems in the country, allowing UM to play host to Big Ten, national and international competitions. UM's indoor track will be the only facility in the country that houses a 200-meter hydraulic track surrounded by a three-lane, 300-meter practice track.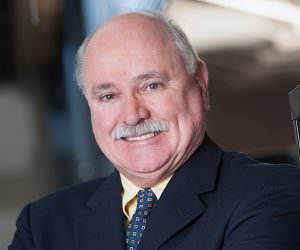 "I couldn't be more excited to be involved with this world class project," said Jerry Brand, Granger Construction's project director for the UM ASCP project. "This will arguably be one of the best facilities in the country. It will be a game-changer for the University, for spectators and for every student-athlete who has the privilege of training and competing here."
The hydraulic track is known as the Rise-N-Run system and is manufactured through Beynon Sports Surfaces. It allows coaches and athletes to raise and lower the track surface at each end to specific angles of embankment, incorporating slope into the turns of the track. The slopes help counteract centrifugal force caused by an athlete's circular motion, thus reducing the effort required to make tight corners and allowing runners to achieve better racing times.
Mark Mitchell, owner of Mitchell Machine Works, is responsible for designing, building and installing the indoor track through a partnership with Beynon. His is one of only two companies in the world that build these hydraulic track systems. (The other is in Italy.)
With the exception of the hydraulic actuators that lift and lower the banked ends, the entire track system was constructed in sections in Mitchell's Dalton, Georgia facility using a computerized 3D model for exact specifications. In all, there are 72,000 components that comprise approximately 200,000 pounds of steel. Once completed, the sections were loaded onto 11 trucks and shipped to the University of Michigan for installation.
"Building such a complex system involves about 7,000 work hours just to fabricate the machine," said Mitchell. "It takes another 4,000 hours to install – a painstaking process that requires each of the hydraulic drivers, 40 at each end, to be placed perfectly so they work in harmony with the one next to it."
As with the fabrication process, a 3D model is also used to help the 10-man crew install the pieces of steel and 80 hydraulic drivers into one flawless working track system. With the push of a button, the hydraulic cylinders, each capable of nearly 10,000 pounds of thrust, flex the underlying steel support structure to create up to 10-degree banks on each of the track's turns in a matter of two minutes. When the curved sections are lowered, the track is flush with the surrounding surfaces.
This is all controlled by an easy-to-use programmable touchscreen on a custom-built control system. A hand-held remote system also allows someone sitting in the bleachers or standing on the infield to raise and lower the banks. During a practice session or competition, the steepness of the banking can be easily changed to optimize it for various events – steeper for the 300-meter race, for instance, and less steep for the mile – from anywhere in the facility.
Other hydraulically banked tracks in the U.S. include facilities at Penn State University, Texas A&M University, the Birmingham CrossPlex, Virginia Military Institute and Liberty University. This is the third hydraulic track system constructed by Mitchell, all within the last year.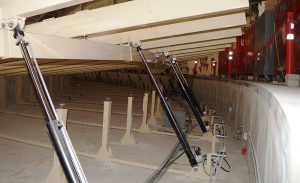 The track also features a specially formulated surface that is sealed on top of a 3/4-inch marine-grade plywood. The International Association of Athletics Federation-certified track surface incorporates original (not recycled) butyl rubber in the force-reduction layer, creating one of the most responsive track surfaces in the world.
"Indoor track venues, especially high-tech ones like this, serve as a key recruiting tool," said Brand, himself a UM alumnus. "What better way to attract top athletes than provide them with a dedicated, state-of-the-art indoor track facility for both collegiate and Olympic training and competition."
The system will not only serve as an important recruitment tool for the University, but should provide a new source of revenue as well. The ability to change from a banked track for training and international meets to a flat track for collegiate competitions will allow the University to host high-profile, championship-level meets as well as other multipurpose events.