Granger Construction has a long-running internship program, employing college students each year in the office and on-site at various projects. Throughout the summer, we'll introduce you to our 2018 Granger interns!
Name: Evan Harless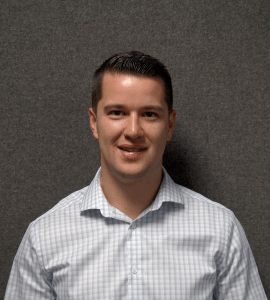 Hometown: Holt, Michigan
School: Michigan State University
Field(s) of study: Construction Management
Year at school: Senior
A native of the Lansing area, Evan was familiar with Granger prior to his internship.
"I knew obtaining an internship with Granger would provide me with the proper insight into the larger world of construction," Evan said. "I also knew it would provide me with knowledge of where I stand in the industry, and what parts of it might interest me the most."
Biggest Inspiration
After transferring schools and changing majors, Evan says he was inspired to study Construction Management because he saw it as a way of maintaining a technical edge while also being able to interact with different people.
"CM's continuously have the opportunity to work on a large variety of projects, stretching across numerous fields and markets," he said. This, combined with being able to work across a variety of market segments appealed to him.
On the Job
During his internship, Evan was stationed on-site at Dexter Community Schools, in Dexter, MI. Part of a $52 million bond campaign, this project spans multiple facilities across the school district, and includes the following:
A new 80,000 SF elementary school
Various technology and transportation equipment upgrades
Multiple roof replacements
Multiple new, flexible learning spaces
Remodeled offices, bathrooms, locker rooms, and pool equipment rooms
A new middle school music room
Upgrades to the Center for Performing Arts
Additional high school athletic fields
Evan was initially interested in witnessing everything required for coordination and execution on a project of this magnitude. "I've always had a strong interest in how things are executed and what takes place behind the scenes," he said.
As the project progressed, however, Evan said his favorite experience was getting to participate in the various subcontractor, owner/school board, and scheduling meetings. These meetings not only gave him the opportunity to interact with various stakeholders, but helped him better understand the project across different levels.
Fun Facts
Evan enjoys spending fall weekends watching MSU football and competing in Brazilian jiu-jitsu.