Granger Construction has a long-running internship program, employing college students in the office and on-site at various projects. Throughout the summer, we'll introduce you to our 2018 Granger interns!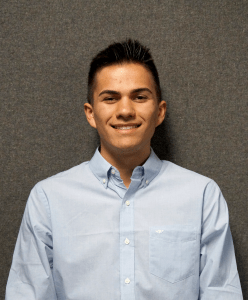 Name: Francisco Valdovinos
Hometown: Davisburg, Michigan
School: Michigan Technological University
Field(s) of study: Construction Management
Year at school: Sophomore
A first-timer with Granger Construction's internship program, Francisco hopes to use his time with Granger as a learning opportunity. Not only is he interested in learning all that goes on during a job and how things are executed, but he hopes this summer will help him better understand what it means to be a construction manager. Already, Francisco notes that this internship has strengthened his interest in the construction management field, and he is eager to join a company like Granger after graduation.
On the Job
Francisco works on-site at a data center project in Southeastern Michigan, and is having an impact on this $145 million endeavor. "Being trusted to markup drawings, then submitting them as solutions that are actually being implemented has been a great experience," he said. Francisco feels his biggest challenge to-date has been getting to know everyone on-site and learning the roles and responsibilities of the various personnel involved in the project.
Biggest Inspiration
When asked what first inspired him to study Construction Management, Francisco said "I've always loved construction, ever since I was little. The idea of being part of something that people get to use every day has always appealed to me, and being able to watch an idea or drawing come to life is an amazing experience!"
Fun Facts
Francisco is the first person in his family to attend college. As a sophomore at Michigan Tech, he jokes that the school's "eight months of winter" can be bittersweet but he's managed to persevere through the cold and snow. Additionally, Francisco's love of soccer has enabled him to form some amazing friendships through club soccer on campus.