We believe a building is much more than just a structure. Building for Impact is an occasional series in which we'll take a look at previous Granger Construction projects and their effects on the occupants, users and communities they were built to serve.
Groundbreaking facility helping to preserve the Great Lakes
In May of 2012, Granger Construction completed Michigan Technological University's (MTU) Great Lakes Research Center (GLRC) in Houghton, Michigan. At the time, we knew we were delivering a flagship facility designed to play a major role in protecting the quality of the Great Lakes—the largest freshwater repository in the world.
Now, four years later, we're learning even more about the profound impact this one-of-a-kind facility is making in understanding, monitoring and gathering critical information to address potential Great Lakes water quality disasters.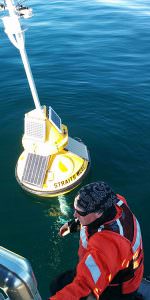 The GLRC, located on a navigable waterway, contains aquatic research laboratories and coastal research instrumentation as well as a data center, offices and meeting rooms. The $21 million 55,000 square-foot facility is designed and equipped to support instruction, experimental laboratories and outreach efforts.
One of the GLRC's current initiatives is focused on understanding the effects a major oil spill could have on the Great Lakes. This includes employing high-tech equipment and extensive fieldwork to help prevent oil spills, monitor and assess at-risk locations, predict oil spill patterns through supercomputer models and understanding oil-eating microbial communities in the Great Lakes. Prior to the GLRC, these types of studies were limited to saltwater environments.
Using a supercomputer they've named Superior, scientists at the GLRC are creating 3-D simulation models to identify water flow conditions and their relationship to thermal structure, wind conditions, and other factors to determine the impact of an oil spill as well as probable disbursement paths.
According to GLRC Director, Guy Meadows, "No one wants an oil spill, but we need to prepare for a worst-case scenario—and we're leading the research to mitigate that risk."
These models are supported by a system of buoys strategically planted throughout the Great Lakes, including the Straits of Mackinac. Each is 16 feet tall from its base to its top wind gauge, weighs approximately 600 pounds and can withstand waves up to 30 feet high. From May through October, each buoy makes a cell phone call every 10 minutes to relay critical data to the GLRC and the general public.
In addition to general research, the GLRC is currently working with the Canadian energy company Enbridge to monitor environmental conditions in the Straits of Mackinac, where the firm's Line 5 oil distribution lines run along the bottom. Line 5 is comprised of two 20-inch diameter pipelines that were installed in 1953. Much of the oil flowing through Line 5 originates in Western Canada, is shipped through Michigan and the Great Lakes, and refined in Canada for markets back in Canada.