Prefabrication making a comeback thanks to technology, schedules
Prefabrication is making a comeback in the commercial construction industry, and savvy owners and leading-edge construction firms are taking advantage of the many benefits that come with it.
The idea of constructing certain building components offsite is not new, but the practice had fallen out of popularity decades ago in part because of quality issues. Recently, however, this construction method is making a comeback thanks to several factors, including the growing use of Building Information Modeling (BIM), green building principles and new trends toward fast-track schedules and Lean construction techniques.
Prefabrication is the practice of assembling a variety of components of a structure at a manufacturing site and then transporting those assemblies to the jobsite for installation. Recent advancements in both construction modeling software and manufacturing technology have significantly improved the quality of components as well as the ease of installation.
For example, utilizing BIM, a team can work from a 3D model to ensure that components are built to exact specifications, and then use a 4D model to help trade partners understand how the work will be sequenced. While new technology has again made prefabrication a viable option, its reemergence is largely because of increasing demands, most notably aggressive project schedules and challenging completion dates.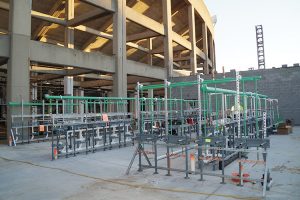 That's one reason why Granger Construction is utilizing prefabricated components on the Spartan Stadium South End Zone Addition project at Michigan State University in East Lansing. Construction began on the $9 million Design-Build project in mid-February, and is slated for completion in mid-August – in time for the 2017 football season. The project involves construction of a 20,000 square-foot, single-story addition that will provide an additional 236 bathrooms and four new concession stand areas. The high-profile project is also designed to comply with U.S. Department of Homeland Security recommendations which advise moving ticket gates further away from the actual stadium.
"Days after we were selected for the job, we sat down with the owner and architect and made a unanimous decision that prefabrication was a necessity if we were going to meet the aggressive completion date," said Marc Arthur, Granger's site manager for the project.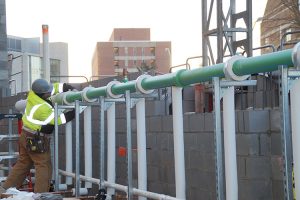 That was in mid-January, and by early February, construction of the plumbing systems for the hundreds of sinks, toilets and urinals had begun at the plumbing contractor's facility weeks before the project was officially underway. These components were built in sections, in a controlled environment, and delivered to the jobsite the same morning they were scheduled for installation. Once on-site, crews made all the necessary connections within a matter of hours.
"The traditional method of building these plumbing systems on-site, in winter conditions, would have taken several days," said Arthur. "That was a luxury we didn't have on this fast-track project."
By prefabbing these units, most of that work was able to take place out of sequence, ahead of the traditional schedule, which allowed subsequent contractors to start their portions of work much sooner.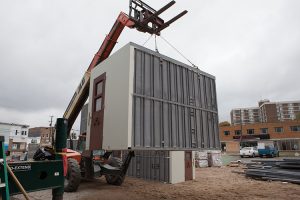 Granger also utilized prefabrication at the award-winning Muskegon County Adult Jail project in 2015 to increase productivity, saving both time and money for the owner. More than 200 prefabricated steel cells were installed on the second and third floors of the three-story structure. The cells came fully assembled with plumbing fixtures, bunks, mirrors, clothes hooks, lights, doors, windows and completely painted with an antimicrobial polyuria coating. In addition, utilities were prepped for connection at the backside of the cells for fire suppression, domestic water, sanitary, supply/return air and lighting.
"We were able to reduce onsite construction duration by about three months by using these prebuilt steel cells as opposed to the conventional masonry-type cell construction, said Rob Train, Granger vice president and senior project manager on the Muskegon Jail project.
Modular cell erection and complete connection took 16 days, while installation of similar masonry cells would have taken approximately 74 days to complete.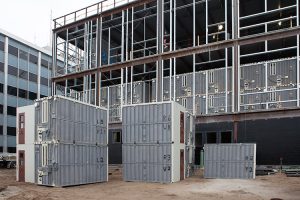 Although timeliness was the initial reason for using these cells, Train said the prefabricated units also cost less to construct and led to a higher quality product.
"That one decision resulted in our team being able to positively impact the three most crucial areas of the project – schedule, quality and cost – which played a key role in delivering the project on time, under budget and to the complete satisfaction of the customer."
One unique aspect of the cells was the inclusion of the security electronics systems into the prefabricated design. This idea was achieved through close collaboration between the security electronics contractor and cell vendor. The Muskegon County Adult Jail was the first project in the country where this approach was implemented. The cells were delivered with security electronics devices pre-installed and wired to a PLC box on the backside of the cells with prefabricated whips to result in a "plug and play" security electronics system relative to operation of cell door controls, intercoms and cameras. Overwhelming success on this project resulted in the contractors seeking a patent for their process and system.
In addition to the schedule improvements, other benefits of utilizing offsite fabrication include:
Financial Savings – Prefabricated or modular construction is an affordable option for owners to consider since the savings to construction time can significantly reduce the overall project costs. It also sidesteps the potential risks for unreliable contractors and unproductive staff. In some instances, prefabrication manufacturers can also receive bulk discounts from material suppliers.
Improved Quality – Since prefabrication occurs in a controlled manufacturing environment and follows specified standards, the components are built to a uniform quality. Site-built components are dependent upon varying skill levels, schedules of independent contractors and weather conditions, all of which impact the craftsmanship and overall quality of construction.
Increased Safety – Because fabrication takes place in a controlled environment, there is less risk of accidents and injuries for workers during assembly. Risk is lessened for workers on-site since there is a reduction in truck traffic due to fewer deliveries, less material being moved from one location to another and fewer workers on-site at any given time. This all contributes to a cleaner, safer and more organized construction site.