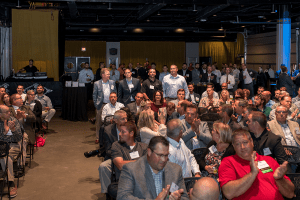 Granger Construction was honored to participate in the Associated Builders and Contractors (ABC) West Michigan chapter's 32 annual Excellence in Construction Awards on Thursday, September 13, 2018.
Project Award
During the event, Granger team members received a project award in the "New Construction over $10 Million" category for work done on the Health Pointe Integrated Care Facility, in Grand Haven, MI.
Also competing in this category were 5 other projects.
About the Project
The Health Pointe Integrated Care Facility is a state-of-the-art complex, offering comprehensive healthcare in one convent location. With a three-story Mixed Office Building and a one-story Ambulatory Surgical Center, the new facility offers the following features:
Urgent Care
Radiology Suite
Orthopedic Suite
Various Primary Care Options
OR Suite
Endoscopy Suite
PACU/Prep and Recovery Units
Health Pointe began in September of 2016 as a partnership between Holland Hospital and Spectrum Health to provide extensive primary care and urgent care service to the Grand Haven, MI community, and Granger was brought onboard to serve as the Construction Management firm for this $30+ Million initiative.
Despite delays and working through two harsh West Michigan winters, Granger was extremely proud to complete the project in January of 2018, one month ahead of schedule.
"I think our purposeful pre-planning and pre-task exercises, along with continuous collaboration between everyone involved on the project were largely responsible for our success," says Ryan Snellenberger (Granger Construction Superintendent for Health Pointe). "This was a great opportunity for Granger to further display our strong management capabilities in West Michigan, and we are honored that this project has been recognized for an Excellence in Construction award."