With help from Reo, an adopted rescue dog, representatives from Ingham County and Granger Construction recently celebrated breaking ground on the new Ingham County Animal Control Shelter in Mason, Michigan.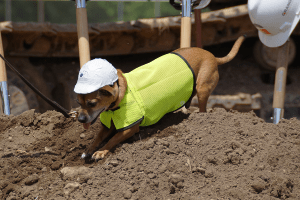 Totaling about 16,000 square feet, the new facility will be about 1.5 times larger than the current shelter, and is being constructed at the north end of the Ingham County Sheriff/County Justice Complex.
Ingham County's new animal control shelter is scheduled for completion in Spring of 2019. Granger Construction is working closely with project designer Hobbs & Black and specialists from Animal Arts (from Denver, Colorado) to help the county achieve desired modernization for this facility.
"We're very excited to get started on this project," said Ben LeBlanc, project manager at Granger Construction. "It's nice to be able to contribute to the animal rescue community by building a modern facility for all the workers, volunteers and rescue animals."
Features of the new design include separate dog and cat areas, enclosed kennels for dogs, and a special CATIO (or 3-seasons type space especially designed for cats). Ingham County also expects the new shelter to allow for improvements such as:
Increased capacity for sheltering animals
Enhanced veterinary facilities
Improved conditions for the animal adoption program
Overall better environment for animals, staff, and visitors

Ingham County residents overwhelmingly voiced support for this project during the 2016 election, when a majority voted to pass the Animal Control Millage. However, additional funding for the shelter continues to come from private donations through the Ingham County Animal Shelter Fund. These contributions will go towards funding veterinary resources, such as surgical and exam lights, anesthesia equipment, and x-ray facilities. Surplus funding may also be used to help provide additional animal amenities.