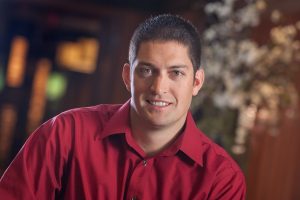 At Granger Construction, our teammates are our most valuable assets. Meet Jerrod Pung, Director of Granger's Construction Services team.
Name: Jerrod Pung
Title: Director of Construction Services
Project/Team: Construction Services
Alma Mater/Education: Central Michigan University Construction Management Program
First Year at Granger: 2010
What key factors led to your current career/role with Granger?
I've always gravitated towards conceptually planning civil construction and estimating project costs.
When I was going through college, I worked as a plumber and house framer. I also worked for Cook Brothers, an excavating contractor. I quickly realized I liked the trade, but I didn't want to operate a shovel my whole career. This led me to focus on Construction Management (CM) and completing the CM degree at Central Michigan University.
What are some of your favorite aspects about your job?
I enjoy watching a project evolve from a concept sketch on a piece of paper into reality in the field, especially design-build projects where the plans are not fully developed or defined. I like the opportunity to envision and estimate what the design will become before any structural or civil engineer has considered detailing the project.
Monday through Wednesday I am often in the office, managing estimating and the project management group, but Thursdays and Fridays I try to spend out in the field. Usually I visit our Self-Perform teams: Concrete, Carpentry and General Trades. My goal is to help the field teams remove any obstacles so they can keep their jobs moving forward.
What advice would you share with others considering similar careers?
Ask questions and ask for advice, especially from tradesmen.
I'm a firm believer that to be effective in this industry you need to know how to build, how buildings go together and how building components go together. The people in the field, especially our superintendents, have the best understanding of how a building is put together, and they are a great resource other team members can learn from.
This is not a process you ever complete. Instead, people who do well in their careers are those who continue to ask questions and learn.
What is one fun fact about yourself or your job?
In my free time, I enjoy spending time outdoors. We live in the county, and one of my favorite hobbies involves developing wildlife habitats. I have taken part in redeveloping tracts of tillable acreage into wildlife set-asides consisting of conifer plantings, native grasses, fruit trees, hardwoods and clover plots. I also manage woodlots for maximum wildlife benefit. 
Aside from this, I'm an avid rifleman, "Yote Whisperer" or coyote hunter and wiffleball player. These are all activities I started as a kid and have continued as an adult, and it's rewarding getting to spend time outdoors now with my family and friends.