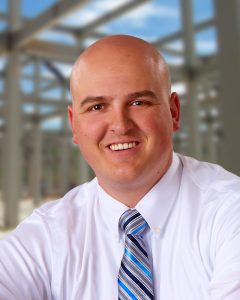 At Granger Construction, our teammates are our most valuable assets. Meet Matt Bauer, Project Engineer with Granger's Ohio team.
Name: Matt Bauer
Title: Project Engineer
Project/Team: Ohio Office and Portage County Jail Project Team
Alma Mater/Education: The Ohio State University, Construction Systems Management
First Year at Granger: 2016
What key factors led to your current career/role with Granger?
I started college studying mechanical engineering, but pretty quickly I figured out where those jobs would land me – primarily in a cubicle. I knew that was not how I wanted to spend my career, so I switched from engineering to construction management.
Then in 2016, our program coordinator at Ohio State shared a job posting for an internship opportunity with Granger Construction. Granger was working on the Fairfield County Jail, and I thought that sounded really interesting. I had never really considered how jails were built; I just took for granted that they existed. 
I applied to the internship and started with Granger around February of that year. When I graduated from Ohio State, I joined the team full time.
Jack the Border Collie joins Matt Bauer daily on the job site.

Granger's Portage County Jail project team in Ohio presented Matt Bauer with a custom safety vest for his canine assistant, Jack the Border Collie.
What are some of your favorite aspects about your job?
Building corrections facilities allows me to work in a very unique field within the construction industry, and it's one I find extremely interesting.
Your entire thought process and approach to building has to shift when you're working on a corrections project. For one thing, these facilities have some of the most sophisticated security and electronics systems out there. Then you have to consider that the Owners will be using these systems and spaces to manage building occupancy and traffic flow very particularly.
For example, with a regular commercial building, the thought process is "how do we build so people can exit as quickly as possible in the case of an emergency?" Usually this means creating exits and lock systems that automatically release to help traffic flow. But with corrections, you need to contain most building occupants while managing their movement to respond to the emergency. Everything is designed to be locked and remain locked.
You also have to make sure everything is destruction proof. The chief deputy at Fairfield County Jail once shared an interesting comment with me that, "There is a big difference between child-proof and inmate-proof."
Jails are one of the only facilities where the occupants actively work to destroy it. So you need to focus more on industrial strength infrastructure and not worry as much about nice finishes.
Aside from this, I also really enjoy getting to work with law enforcement. I have many friends in the law enforcement community, so it's nice being able to work in their world while still being in the construction industry. I get a great deal of satisfaction from seeing tangible progress every day I go to work, and it's great being on site and outdoors most work days.
What is your best construction job tip?
Be organized and take pictures of everything. Even if it takes some time to find the picture you need, having them really is worth 1000 words when it comes to explaining an issue or a proper installation.
It's also very helpful to photograph anything that will be hidden later in the project. Make sure you include some point of reference in your photos, so you and others looking at the pictures later can place what you are looking at and where it is in the building. This can be as simple as, photographing a wall and including a helpful reference point in the shot. 
Fortunately, the iPads we use at Granger allow us to take high quality shots to capture the level of detail we need. But they also have a wide enough angle lens to include critical reference information.
What is one fun fact about yourself or your job?
I live full time in an RV with my dog Jack. Jack is a border collie I got from a rescue in 2018, and since then he has been coming to work with me almost every day. Now he's a local celebrity. The team even bought him a dog-sized Granger safety vest last Christmas.