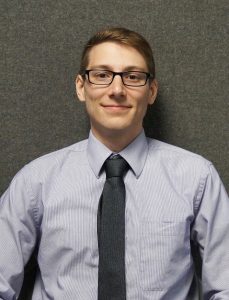 At Granger Construction, our teammates are our most valuable assets. Meet Nolan Arthur, Project Engineer with Granger's Pre-Construction team.
Name: Nolan Arthur
Title: Project Engineer
Project/Team: Pre-Construction
Alma Mater/Education: Michigan State University
First Year at Granger: 2007
What key factors led to your current career/role with Granger?
I began working for Granger during my spring break in 2007 where I served as a laborer on a Sparrow Health System project for a week. Fast forward to summer of 2008, I returned to help on the same project. This began a cycle for me of coming back and working part-time on various projects while pursuing a career in digital media and music. I attended Lansing Community College at the time and had started my own record label. But after a couple years and some major life changes, I realized a career in digital media wasn't for me and it became more of a hobby.
My experience working with Granger helped me realize the I enjoy the fast-paced environment of the construction industry. The work left me feeling fulfilled at the end of the day. So I decided, why not take the next step and see what the management side had to offer?
I enrolled in Michigan State University's Construction Management program and continued to intern with Granger. This gave me the opportunity to study while tackling various real-world projects for clients like General Motors and Central Michigan University. Then when I graduated from MSU in fall of 2019, I accepted a position with Granger as a full-time Project Engineer. 
What are some of your favorite aspects about your job?
As a Project Engineer with Granger's Pre-Construction team, my daily responsibilities relate to estimating projects based on concepts through various iterations and levels of design. A normal day for me begins with making a list of things I need to accomplish, then starting to perform takeoffs, calling subcontractors, etc. Anything that needs to get done.
But my absolute favorite thing about working with Granger has been the people. They have become close to my second family and I can't think of a day where I didn't have someone around who could answer questions or guide me through something. I also can't think of a day where I haven't had a good laugh or a great conversation with someone. It's definitely a welcoming and positive environment, which I appreciate.
What advice would you share with others considering similar careers?
There are a few favorite takeaways I learned through my time interning and now working full-time with Granger. First, don't turn down opportunities to better yourself on the job or gain more knowledge about a topic. If a task is given to you and you don't necessarily know how to do it, take it anyway and ask for help. These new experiences are how you will learn and grow. Second, don't be afraid to ask questions. The more questions you ask, the more you will learn from the situation and know for next time. Third, be positive and motivate yourself and others.
What is one fun fact about yourself or your job?
Outside of work I enjoy skateboarding, playing various instruments and recording music.