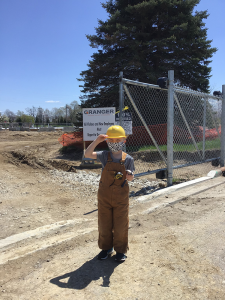 Even during the COVID-19 pandemic, Granger teams still find innovative ways to safely connect with local communities near our project sites. Most recently we gained our youngest "intern" ever: Brody.
Brody is five years old and will attend Pine Knob Elementary in the 2020-21 school year. After finding himself with spare time during Michigan's "Stay Home, Stay Safe" quarantine, Brody began regular, socially-distant visits to Granger's Michigan State University Federal Credit Union Clarkston/Sashabaw branch jobsite.
Upon learning of Brody's avid interest in all things construction, our team quickly voted to make him an honorary junior safety officer. His internship duties now consist of observing the jobsite whenever he drives past in his car in order to help:
Monitor the project's progress
Report if team members are working safely and following correct safety procedures
Provide updates using drawings and words to report what he observes
We are very excited to have Brody and his family join the Granger team, and hope others can find inspiration in his enthusiasm for the industry and for safety. Below is a short interview between Brody and Granger Superintendent Carson Lyons.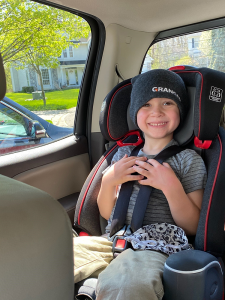 CARSON: How old are you?
BRODY: Five
CARSON: Where do you go to school?
BRODY: Pine Knob Elementary (next year)
CARSON: How long have you been interested in construction?
BRODY: 5 years
CARSON: What type of experience do you have?
BRODY: I like playing in dirt
CARSON: What is your favorite tool?
BRODY: Tape measure
CARSON: What is something you've always wanted to build?
BRODY: A tower
CARSON: How high would your tower be?
BRODY: About as high as a fence
CARSON: What material would you use to build your tower?
BRODY: Blocks