We believe a building is much more than just a structure. Building for Impact is an occasional series in which we'll take a look at previous Granger Construction projects and their effects on the occupants, users and communities they were built to serve.
Holocaust Memorial Center continues to educate, inspire
Granger Construction completed the Holocaust Memorial Center in Farmington Hills, Michigan, in July 2003. Since then, the Center has demonstrably exceeded the vision and foresight of its founder, Rabbi Charles H. Rosenzveig. Although Rabbi Rosenzveig passed away in 2008 at the age of 88, the Holocaust Memorial Center carries on his extraordinary passion and vision and continues to educate and inspire thousands of visitors each year.
Today, the Holocaust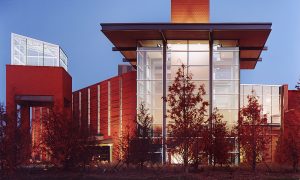 Memorial Center hosts approximately 65,000 annual visitors and is supported by 1,300 active members – both financially and through volunteerism. More than a third of the Center's yearly visitors are grade school children who learn about Jewish history with special emphasis towards being understanding and tolerant of those whose beliefs differ from theirs.
The Center consists of educational and historical exhibits that explain European Jewish Heritage, the International Institute of the Righteous – those who helped Jews escape imprisonment and execution (of whom, Granger employee Alex Litos' father is an honored member) – and a renowned resource library comprised of over 60,000 volumes on Jewish history, including hundreds of original documents. The Center also features lecture and conference rooms.
Rabbi Rosenzveig's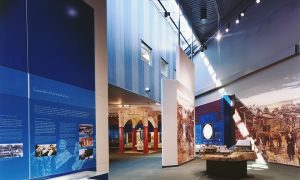 original Memorial Center opened in October of 1984 on the Jewish Community Campus on the corner of Maple and Drake Roads in West Bloomfield, Michigan.
Granger Construction served as the construction manager for the project and the Center was designed by Neumann-Smith & Associates of Southfield, Michigan. The Holocaust Memorial Center earned the Associated General Contractors of America's prestigious 2004 Build America Award as well as the Engineering Society of Detroit's 2005 Building Design and Construction Team Award.
Located at 28123 Orchard Lake Road in Farmington Hills, Michigan, the Center is open daily, except Saturdays, and welcomes group tours. More detailed information is available on their website.