Granger Construction was honored to be recognized at the 134th annual CAM Awards for its contributions to Dexter Community Schools' new Early Elementary Complex. This was one of the top 12 projects recognized by the Construction Association of Michigan (CAM) and featured in the 2019 October magazine special issue. Learn how the project team worked together to create this one-of-a-kind facility with revolutionary design details never before tried in a K-12 facility.
Project Overview
Granger Construction and TMP Architecture completed work on this groundbreaking new Early Elementary Complex in January 2019.
This was a $24.4 million project within a larger $71.7 million 2017 bond program, for which Granger Construction assisted in campaigning. The project involved major renovations to Cornerstone Elementary School, an existing 65,000 SF facility serving over 400 students. It also included construction of Beacon Elementary School as an 85,000 SF attachment, providing education space for over 750 students. The two facilities were constructed as mirror images of each other, joined in the middle by two flexible shared learning spaces.
Cozy reading nooks line one wall in the Marketplace flexible learning area.

Students exercise their imaginations in these custom play spaces at Dexter's Early Elementary Complex.

Dexter's Early Elementary complex includes many bespoke features, like the built-in riser and projector area.

The Workshop theater is equipped with a projector and green screen for presentation.

The Workshop provides a state-of-the-art STEAM learning space, including innovative design features such as a steel pergola that can hold the weight of a suspended pickup truck.

The new Early Elementary complex includes substantial natural light and specialty LED light systems, offering environmental, learning and energy reduction benefits.

A functional play kitchen within the Marketplace provides both a fun and practical space.

The Marketplace is one of two new flexible learning spaces found in the Dexter Early Elementary Complex.
Innovative Design
Dexter's goal with this project was to update aging systems and add additional space to meet its growing student population and learning needs. But the most innovative aspect of this project was its one-of-a-kind design.
Focused on providing leading-edge STEAM education, the facility includes substantial state-of-the-art technology and many features never before used in K-12 schools. This meant the project team had few examples they could look to as design models. Instead, this innovative design required high levels of cooperation and synergy among Granger, TMP and Dexter Community School officials to fully flesh out the best possible solutions with the fewest possible constructability issues.
Flexible Learning: Chief among these unique design elements was the installation of two flexible learning centers, the Marketplace and the Workshop. These spaces were built for use both by the school and the community, with the Marketplace including large open areas, custom reading nooks, a functional play kitchen and many bespoke pieces. The Workshop, in turn, brought a state-of-the-art STEAM learning area to the community. It includes cutting-edge technology and features like an overhead glass door, a steel pergola that can hold the weight of a suspended pickup truck and a theater with a projector and green screen for presentations.
Gender Neutral Restroom: To better address privacy concerns, the Dexter Early Elementary Complex advanced standard bathrooms with new, gender neutral options.
Unique Lighting: This project included substantial natural light and specialty LED light fixtures. For instance, in many of the common areas, the project team installed glass skylights with light-sensing monitors and light systems that adjust LED lighting based on the amount of natural daylight permeating the space. This is significantly more complex than standard fluorescent lighting used for K-12 projects. The system offers environmental, learning and energy reduction benefits.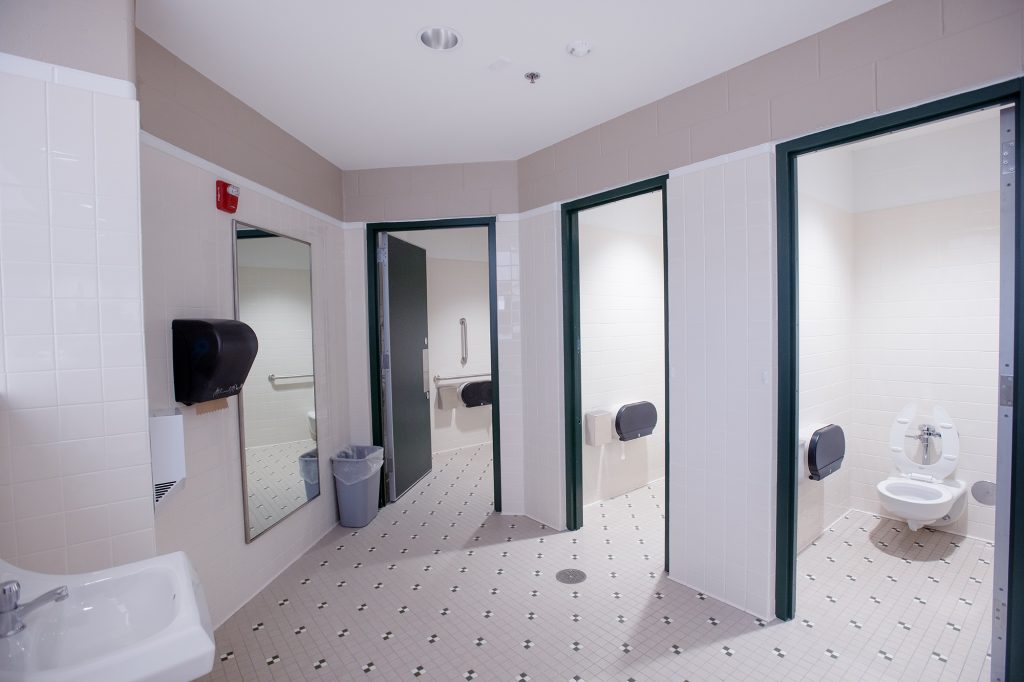 Merging Structures
Besides the uniqueness of the design, challenging logistics such as construction location, schedule and budget restrictions further demanded full and ongoing cooperation between all members of the team to ensure success.
Combining two schools into one facility allowed them to share spaces for instruction while reducing construction and operating costs, and leading to about $200,000 in savings on the school bond project. However, building a completely new elementary facility attached to a preexisting complex required the project team to pay special attention to many design and logistical details to ensure the two facilities merged seamlessly. For example, the team needed to blend the exterior brick motif between the old building and new construction for consistent look.
Features shared by the schools include:
Mechanical plant
Boilers for both drinking and heating hot water
Chillers for cooling water
Single cafeteria and kitchen space with two serving areas
Service entrance
Fire access road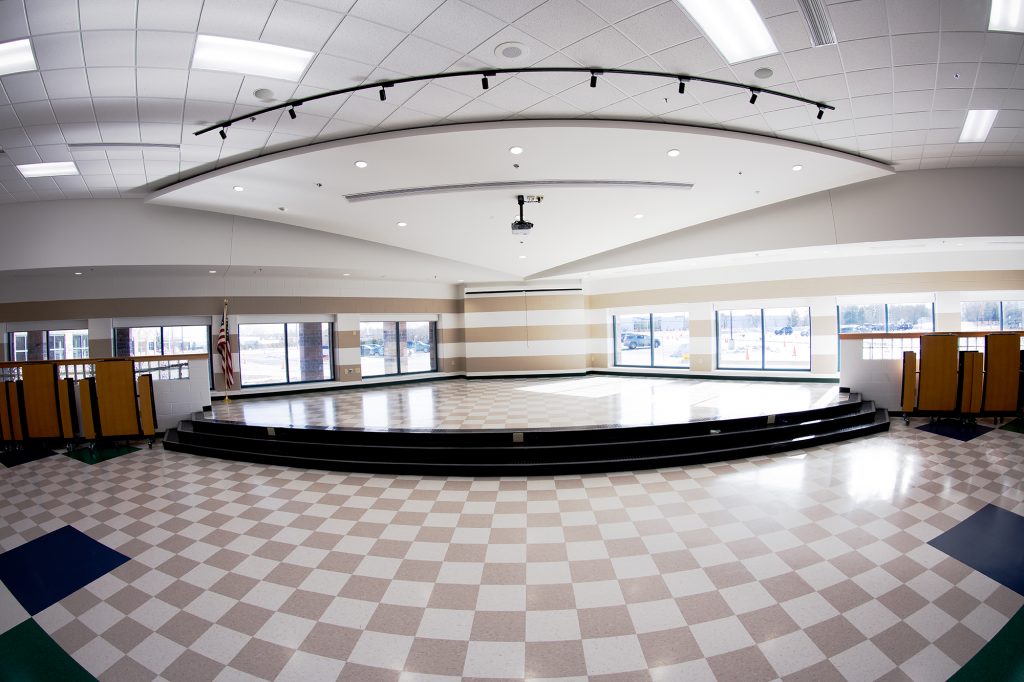 Project Management
To maintain a safe and productive environment for students, staff and parents while ensuring a safe and efficient work site, the project team paid special attention to safety and logistics planning. This began during pre-construction, with the team working with Dexter School administrators to identify the best site logistics plans to keep heavy equipment and construction work as separate from daily occupant traffic as possible.
The team continued working with Dexter throughout the project, updating logistics plans with each phase, placing physical barricades around work areas and creating ample jobsite signage, handouts and videos. Granger gave in-depth tours for staff and students and presented to classes and community groups to inform everyone about project goals, progress and safety. We also instructed our own team members to censor all jobsite media, such as clothing, radio stations and language, to maintain a student-appropriate environment. Additionally, Granger took advantage of MIOSHA CET to schedule a walk through for safety purposes. They also partnered with MIOSHA CET to review safety trainings and processes and implementation.
Aside from ensuring our team provided quality work that exceeded our client's goals, we also supported the community during this project by helping coordinate and facilitate various events such as a student/staff groundbreaking ceremony, a public groundbreaking ceremony, student/staff jobsite tours and safety lectures, public and community jobsite tours and lectures and a large grand opening event. For every event, we worked with Dexter Schools on establishing a guest list, sending and communicating invitations and RSVPs, curating and delivering talking points and staging the event spaces. Our team shared updated design concepts in 2D, 3D and 4D layouts to help keep the community informed on the project and what it would like when completed.
Ultimate Success
Granger's team completed this one-of-a-kind, state-of-the-art K-12 STEAM learning facility on time, below budget and without a single community complaint. We were able to exceed the goals set by Dexter Community Schools while also meeting their needs for us to work on an accelerated schedule within and adjacent to two active school campuses.
Our success also allowed us to further develop our relationship with the community, and help promote their efforts. For instance, after the project's completion, Granger's Marketing and Communications Department submitted the Dexter Early Elementary Complex to CAM Magazine , which selected this facility and Dexter Schools for a feature in their special October 2019 issue, helping generate more public awareness of this project and its benefits to the Dexter Community.
Dexter Superintendent Chris Timmis noted that the successful construction and continued positive promotion of this new and unique learning facility is leading to growing enrollment numbers for Dexter Community Schools.