Granger Construction has a long-running intern program, employing college students in the office and on-site at various projects. Throughout the summer, we'll introduce you to our 2017 Granger interns!
Name: Austin Pelfrey
Hometown: Haslett, Michigan
School: Lawrence Technological University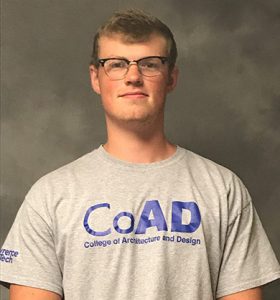 Field(s) of study: Architecture
Year at school: Sophomore
How did you decide on your field of study? I've always been interested in the design field, as well as everything that's included from designing a conceptual space into reality.
Favorite experience(s) from school: My favorites have been field trips to Frank Lloyd Wright houses and documenting sites of study with photography.
After graduation/Career plans: I want to become a licensed architect.
What Granger project are you working at (name/location)? I am at Sparrow Main Lab and Sparrow Plaza/East in Lansing.
Why did you want to intern with Granger? I needed to begin searching for positions directed towards my field of study and the opportunity presented itself to me.
What are you most excited to learn about or do during your internship? I am excited to learn about difficulties and issues that arise on projects and how the project managers work with the architects/subcontractors to solve such issues. I'm excited to put the skills I've developed at school and apply them to the tasks that I'm issued.
What has been your favorite/ most meaningful experience so far in your internship? My favorite experience has been creating a diagram with information including demo, overall plan, and power scopes with their respected callout notes for the supervisor to use.
What have been the biggest challenges so far / what do you think will be the biggest challenge? The biggest challenge is not knowing much about construction and everything that goes into the entire project. The biggest challenge for me will be doing things I've never done/heard of before.
How do you think this internship will impact your future goals? It will give me a valuable perspective into the other side of architecture and allow me to consider such challenges and issues that develop when making a concept into reality. This internship will also introduce me to companies which I may someday work for.
Fun fact about yourself: I enjoy spending my time skateboarding/snowboarding and visiting significant architectural locations.