Granger Construction has a long-running internship program, employing college students each year in the office and on-site at various projects. Throughout the summer, we'll introduce you to our 2018 Granger interns!
Name: Collin Lucas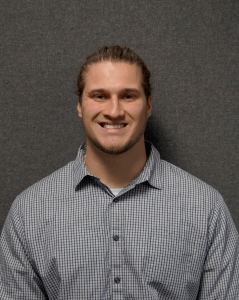 Hometown: Avon Lake, Ohio
School: Michigan State University
Field(s) of study: Construction Management
Year at school: Senior
Collin first heard about Granger Construction while attending classes at Michigan State University. "I saw them doing work around campus, and had heard how they were such a great company," Collin said. This experience, along with recommendations from classmates who were previous interns with the company, led him to apply for his own internship.
"This is my first internship, so I really just want to absorb as much as I can while also helping the company to the best of my abilities," he said.
On the Job
This summer, Collin joins Granger team members on-site at MSU to assist with the MSU Healthy Campus project. This is a $27 million initiative, involving multiple updates to fitness and recreation spaces across the East Lansing campus, including:
New flooring, lighting, dashboards, and destratification fans at Demonstration Hall
Resurfaced indoor track, new lighting, and other renovations at IM Sports East
New turf, lighting, paint, and restroom remodels at IM Sports West
Transformation of old pool area to multi-use facility at IM Sports Circle
Construction of a new outdoor ice rink and amphitheater
Various other projects across campus
Collin said his biggest challenge has been staying organized, especially when dealing with complex scheduling. Despite this, Collin said he is "learning a ton about managing a construction site, and that in itself is my favorite thing."
Biggest Inspiration
Collin's interest in construction stretches back to childhood memories of playing with Legos. Upon starting classes at MSU, he decided to try the Construction Management program based on recommendations from friends. "I don't really have a favorite experience from school," Collin admits, "but I am happy to find that most of the skills and knowledge I have acquired from classes are directly relatable to things I am working on with this internship."
Fun Facts
Outside of class and work, Collin is the oldest of six siblings and plays football for MSU.