Granger Construction has a long-running intern program, employing college students in the office and on-site at various projects. Throughout the summer, we'll introduce you to our 2017 Granger interns!
Name: Conor Bradley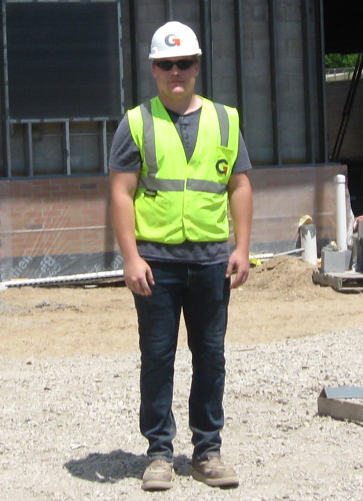 Hometown: Newaygo, Michigan
School: Ferris State University 
Field(s) of study: Construction Management
Year at school: Senior
How did you decide on your field of study?
Legos were a big part of my childhood. I like seeing how things come together to form a finished product. I originally went into Physical Therapy and it didn't pique my interest. My two internships over the past three summers in the construction industry have been eye opening.
After graduation/Career plans: I want to work for a company either in the field or in the office. I aspire to own a residential company and build custom homes.
What Granger project are you working at (name/location)?
Ferris State Swan Annex in Big Rapids, Michigan.
Why did you want to intern with Granger? I've heard a lot of good things about Granger from graduated students. And it helps that they have been on-site for the past year and a half or so.
What are you most excited to learn about or do during your internship?  I'm excited to learn about what I am going to do when I graduate. It's hard to find a company that lets you have your own tasks that you are responsible for.
What has been your favorite/most meaningful experience so far in your internship? I've been able to sit in on Owner/Architect meetings and have made some personal relationships along the way.
What have been the biggest challenges so far/what do you think will be the biggest challenge?
It's hard getting pulled into a project that has already started. Getting up to speed on all the things going on with the building is the hardest aspect to tackle so far.
How do you think this internship will impact your future goals?
I think having Granger on my resume is something that will stick out. Granger is a well-respected company throughout the construction industry.
Fun fact about yourself: I play soccer for the Club soccer team at Ferris State University.