Granger Construction has a long-running intern program, employing college students in the office and on-site at various projects. Throughout the summer, we'll introduce you to our 2017 Granger interns!
Name: Greta Pearson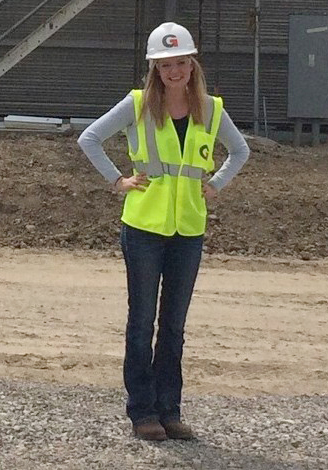 Hometown: St. Joseph, Michigan
School: Ferris State University
Field(s) of study: Construction Management
Year at school: Senior
How did you decide on your field of study?
I grew up around small family construction business and always loved it.
Favorite experience(s) from school: Framing a small house in lab for a framing class.
After graduation/Career plans:
I want to become LEED certified, follow the steps to become a Project Manager.
What Granger project are you working at (name/location)?
A data center project for a large-scale client in Southeast Michigan.
Why did you want to intern with Granger?
I heard it was a great intern program that provided a lot of great learning experiences.
What are you most excited to learn about or do during your internship?
I am excited to learn more about the RFI/submittal process and how job costs are handled.
What has been your favorite/most meaningful experience so far in your internship?
My favorite part has been helping design concrete cut lines for a concrete floor.
What have been the biggest challenges so far/what do you think will be the biggest challenge?
So far, the biggest challenge has been getting accustomed to all the computer programs and technology used.
Fun fact about yourself: I ride and show Arabian horses.