Granger Construction has a long-running intern program, employing college students in the office and on-site at various projects. Throughout the summer, we'll introduce you to our 2017 Granger interns!
Name: Holly Bronson
Hometown: Davison, Michigan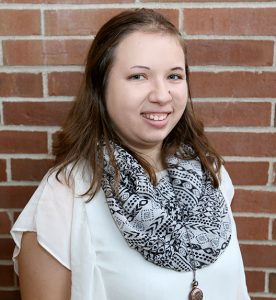 School: Michigan State University 
Field(s) of study: Dual Degree- Professional Writing (editing/publishing), Arts and Humanities; I also have a minor in Peace and Justice Studies
Year at school: Senior 
How did you decide on your field of study?
I've wanted to be a writer since I was six. At first, I just wanted to be a creative writer, but when I was 12, I started looking more into the technical side of writing (such as editing and marketing). When I came to MSU, I decided to get a dual degree in Professional Writing, and that opened up a lot of different possibilities within the communications field. 
Favorite experience(s) from school: Marching with the Alto Saxophone section in the Spartan Marching Band; interning at a company in London during the summer of 2016 and getting to travel all over the U.K. 
After graduation/ Career plans: I want to find a job either as an editorial assistant in a publishing company or as a communicator/technical writer at a business.
What Granger project are you working at (name/location)?  I am interning in the Marketing department (at the Lansing headquarters).
Why did you want to intern with Granger?  It sounded like a great internship to get more experience in the technical side of writing and communication. Before my internship in London, I didn't have much experience with this type of writing, but after getting exposed to it there I decided that I wanted to explore the field more.
What are you most excited to learn about or do during your internship?   I am really excited just to get more experience doing this type of marketing and communications work. I'm also looking forward to learning more about the business.
What has been your favorite/ most meaningful experience so far in your internship?
So far, it has probably just been the exposure through research to this type of business, as well as how a marketing department functions.
What have been the biggest challenges so far / what do you think will be the biggest challenge?  It has probably been working to meet deadlines and deliver a worthwhile product quickly and efficiently.
How do you think this internship will impact your future goals?  I think that it will help me to become a better writer and editor, but, more importantly, it will help me become a much better communicator.
Fun fact about yourself: I have been to all 50 U.S. states and their capitals!