Granger Construction has a long-running intern program, employing college students in the office and on-site at various projects. Throughout the summer, we'll introduce you to our 2017 Granger interns!
Name: Jordan Krausz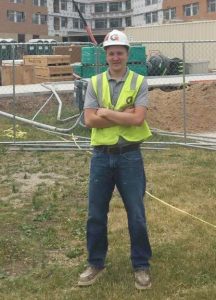 Hometown: Westphalia, Mich.
School: Ferris State University
Field of study: Construction Management 
Year at school: Senior
How did you decide on your field of study?
There were 3 main reasons why I chose construction management.
Being able to see a finished product when a job is done.
Having an impact on the community.
The different opportunities. Over a career in the construction industry there is opportunity to build schools, stadiums, offices, hospitals etc. I think that is really cool.
Favorite experience(s) from school:
Meeting new people, making new friends, and learning about the different opportunities the construction industry has to offer.
What Granger project are you working at (name/location)?
Ferris State North Residence Hall in Big Rapids, Michigan.
Why did you want to intern with Granger?
Being from the Lansing area, I wanted to work for a company based close to home.
What has been your favorite/ most meaningful experience so far in your internship?
Getting to know the Granger project managers and superintendents as well as the tradesmen on the jobsite.
What have been the biggest challenges so far/what do you think will be the biggest challenge?
The learning curve. Although I have worked here for a little over a year now, I am still doing different things for the first time.
How do you think this internship will impact your future goals?
Having internship experience should help me get a full-time job after graduation. Getting a full-time job is the first of many career goals I have.
Fun fact about yourself:
I enjoy wakeboarding and waterskiing.