Granger Construction has a long-running internship program, employing college students each year in the office and on-site at various projects. Throughout the summer, we'll introduce you to our 2018 Granger interns!
Name: Kurt Kersjes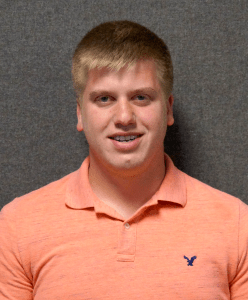 Hometown: Shelby, Michigan
School: Ferris State University
Field(s) of study: Construction Management
Year at school: Senior
This is Kurt's first year with Granger Construction's internship program, and he is enthusiastic about the impact it could have on his future career: "I would like to work as a project manager, and this internship is teaching me the industry, the role of a PM, and how to deal with typical day-to-day issues," said Kurt.
Biggest Inspiration
When asked what first inspired him to study Construction Management, Kurt admitted he actually began by studying Mechanical Engineering at Western Michigan University. However, after completing some coursework and an internship, he realized engineering was not the right fit.
"I took time to think about what I wanted to do as far as a career, and realized the jobs I've really enjoyed were all in the construction industry," said Kurt. With this realization, and recommendations from his parents, Kurt transferred to Ferris State to study Construction Management.
On the Job
This summer, Kurt is strengthening his construction management skills while working with the Granger team at the University of Michigan Athletics South Competition and Performance Project in Ann Arbor, MI.
This $100+ million project, has included construction of several new indoor and outdoor athletic venues. The total square footage for this project is over 260,000, and includes:
A new 160,000 SF multipurpose facility
An outdoor track venue that accommodates 2,000 spectators
One of only nine hydraulically banked running track in the United States
An indoor rowing facility, allowing year-round competition training
Kurt says his favorite part of the internship has been the people. Already, he feels he has found great teachers and mentors on site but admits that it can be challenging as a young team member.
Fun Facts
During high school, Kurt was a member of his local 4-H club. During that time, he won Grand Champion Market Steer.