Granger Construction has a long-running internship program, employing college students each year in the office and on-site at various projects. Throughout the summer, we'll introduce you to our 2018 Granger interns!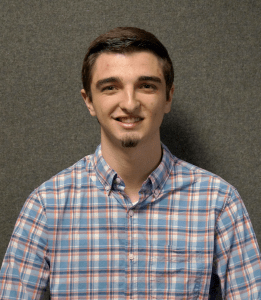 Name: Michael Simon
Hometown: Portland, Michigan
School: Saginaw Valley State University
Field(s) of study: Computer Information Systems
Year at school: Junior
This is Michael's third year as an intern at Granger, and he says one of his biggest interests in this opportunity is that it has allowed him to experience work in both an office setting and on jobsites.
On the Job
As part of Granger's Information Technology Department, Michael's internship is based out of the company's headquarters in Lansing, Michigan. His work involves supporting teams across all Granger office locations, as well as on project sites. Because Granger requires temporary office spaces on almost every jobsite, Michael assists the I.T. Department with setup and teardown, as well as technical support for each of these locations. He notes that jobsite mobilization is one of the biggest challenges of his internship.
"Being tasked with going out to do a jobsite mobilization is always a major effort," Michael said, "and it usually takes a significant amount of time." Things like power and Internet connections are not always a guarantee when you arrive on site, and often the I.T. Department must determine how to establish these connections before they can finish setting up equipment for the temporary office space. These kinds of roadblocks can set back a mobilization days or even weeks, and it takes constant coordination, communication, and planning to ensure every jobsite office space is ready to go before construction begins.
Biggest Inspiration
When asked what first inspired him to study Computer Information Systems, Michael responded that he has "always been fascinated by everything related to Information Systems, including the improvement of applications for companies." With this in mind, Michael states his favorite part of the internship program has been working on projects that help advance the efficiency and technology of the company, such as Granger's Virtual Desktop application, and iPad and computer deployment.
Michael also enjoys working with Granger's Director of Information Technology, Carlos Anzaldua, on increasing the company's cyber security, and is excited to continue assisting Granger throughout the summer.
Fun Facts
Michael is one of two members of the Simon family working at Granger Headquarters. His father, Glenn Simon, currently serves as a Vice President for the company.