Granger Construction has a long-running intern program, employing college students in the office and on-site at various projects. Throughout the summer, we'll introduce you to our 2017 Granger interns!
Name: Olivia Bradford
Hometown: Novi, Michigan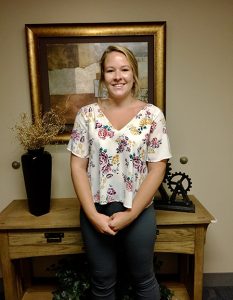 School: Michigan Technological University
Field(s) of study: Mechanical Engineering
Year at school: Junior
How did you decide on your field of study? My dad is an engineer and I have always loved math and science throughout school. I wanted a degree program that would allow me to continue studying these subjects and challenge me along the way.
Favorite experience from school: Winter Carnival is my favorite experience every year. I love building the snow statues and participating in all of the events, like human dogsled, ice bowling, and curling!
After graduation/Career plans: I will hopefully get a full-time job doing something I love! I would like to stay in Michigan and be near my family.
What Granger project are you working at (name/location)? I am working in the Lansing Office and at the GM Lansing Grand River Project.
Why did you want to intern with Granger? I am still unsure of what career path I want to take after graduation, and working at Granger has exposed me to the construction path! I am hoping this will help me narrow down my decisions!
What are you most excited to learn about or do during your internship? I am most excited to learn about what mechanical engineers contribute to the field of construction.
What has been your favorite/most meaningful experience so far in your internship? I enjoyed working with the PreCon team on the MSU Olin Renovation estimate- I learned a lot about the estimating process! I also really enjoyed visiting the Spartan Stadium renovation; that was a cool experience.
What have been the biggest challenges so far/what do you think will be the biggest challenge? The biggest challenge I have faced so far is acclimating myself to the world of construction.
How do you think this internship will impact your future goals? I think that working at Granger will ultimately help me decide what career path I want to take with my degree. It has also motivated me to further my education and do the best that I can in school.
Fun fact about yourself: I love any type of skiing – downhill, cross-country, or waterskiing!