Ohio project benefits from Lean principles, technology
The flow has started for the entire project.
That's how Granger Construction Project Engineer Evan Schroeder recently described the biggest change that's been realized by incorporating Lean construction principles on the Monroe County (OH) jail jobsite.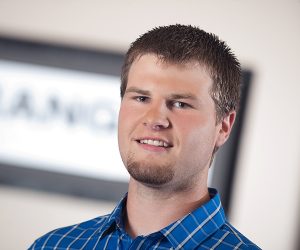 By using Lean principles such as a last planner tool, daily huddles and reliable promising, work on the project has been accelerated and streamlined, despite winter weather that frequently presents the team with less-than-ideal conditions, according to Schroeder.
The project, a $10 million new construction of the Monroe County Sheriff's Office and Correctional Facility, began in August 2016 and is scheduled to be completed later this year.
Among the Lean principles that has had the most significant impact to the job has been the introduction and usage of Touchplan® team planning software to enhance collaboration and communication.
"Using Touchplan® as a vehicle to capture our six-week work plan has allowed our subcontractors to have total buy-in of the overall schedule," said Schroeder. "Touchplan® allows our team to quickly identify areas of constraint and work together to brainstorm solutions as a whole."
As evidence of this impact, consider that the project's first pull-plan meeting took place in mid-December. By late January, the team had accelerated the project schedule a full 17 days.
Despite some initial hesitation, all partners and team members quickly bought in to the idea. During the bidding phase, Granger mandated that each foreman on the job use an iPad and Touchplan® software, which also helped adoption of the technology.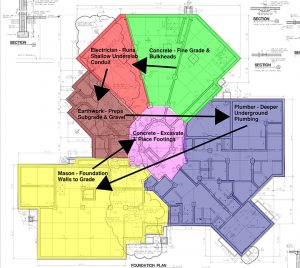 Touchplan® has allowed Granger to establish and share a visual of activity for the entire project. (See diagram at right.) Perhaps more important than just being on or ahead of schedule, Schroeder said, is that the project flow has started and put the contractors on a great path to complete work in conjunction with the team's overall milestone.
"We rarely have problems with trades working on top of each other in the same area," Schroeder said. "It has been extremely useful for the subs to see and coordinate where the other contractors will be working."
In January, concurrent work on the site began in earnest in every section of the building. While the mason brought foundation walls up to grade in one section, the concrete contractor worked on finishing slabs in another.
Establishing and maintaining this efficient flow – something that has been significantly aided by Granger's use of Lean construction principles – is critical to the overall success of the project.
"Now that we have good flow, I expect the rest of the pieces, such as schedule, cost, safety and quality, will follow," Schroeder said.