As an ENR Top 400 construction firm, Granger has extensive experience with all methods of successfully delivering your construction project. Granger has earned a reputation as a trusted partner and valued collaborator, regardless of the delivery method. From construction management services to integrated project delivery, Granger's goal is to ensure your project is delivered on-time and on-budget.
Construction Management (CM)
Construction management is the overall planning, coordination and control of a project from inception to completion. As your CM partner, we define project responsibilities and the management structure, organize and implement controls including the budget, develop communication protocols, and supervise construction.
Design-Build (DB)
With design-build, the owner hires the builder and the architect under one entity to deliver a completed building. A budget is usually furnished by the owner at the outset of the project. The design-build team then develops the design/drawings that fulfill the owner's desires while also staying at or below the budget. A guaranteed maximum price (GMP) is then negotiated. Final design is completed while construction gets underway.
Integrated Project Delivery (IPD)
Integrated project Delivery (IPD) integrates people, systems, business structures and practices into a process that takes advantage of the knowledge, insights, and experiences of all team members to maximize project outcome and value to the owner, reduce waste and maximize efficiency throughout all phases of design, fabrication and construction.
All participants — owner, designer, construction manager, key technical consultants and major subcontractors — come together early in the project to form a project delivery team that shares decision making, as well as risks and rewards based on reaching established targets. In this way, all participants collaboratively act in the best interests of the project rather than focusing exclusively on their own individual part without considering implications for the entirety.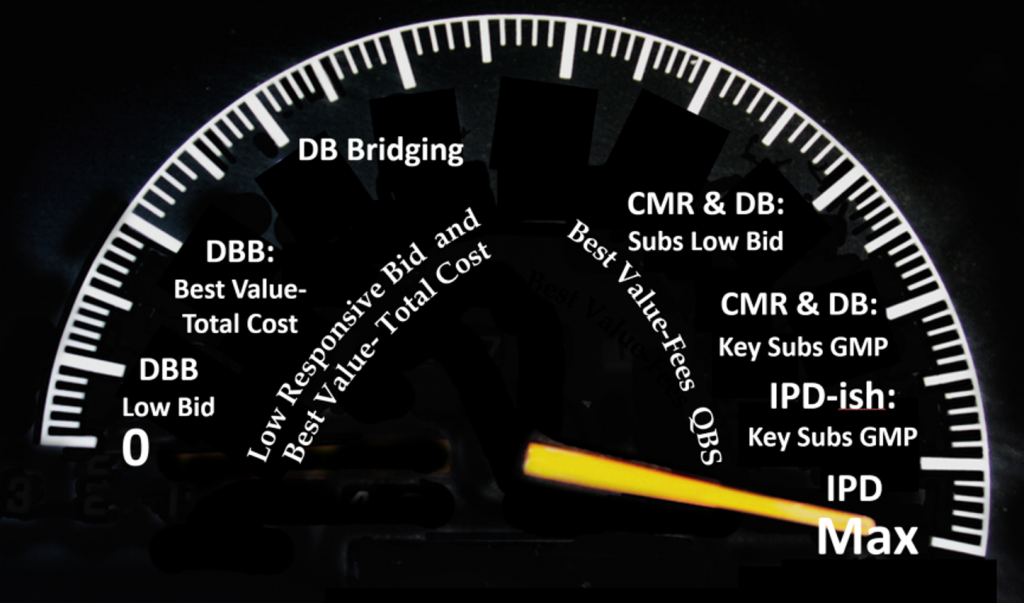 General Contracting (GC)
This method is one with which many owners may be most familiar. It is a linear process where one task (i.e., construction) follows another process (i.e., bid or design) with no overlap. Plans and specifications are developed and advertised for bid. Contractors bid the project exactly as specified with the lowest bidder typically awarded the work using a lump sum contract.