We turn visions into solutions. No two projects are the same, so we tailor our approach to the needs, goals, and parameters that we help our clients define. We seek to be our clients' trusted partner throughout the planning process. By beginning with the end in mind, our approach minimizes unforeseen owner costs and changes and empowers informed decision-making.
Pre-Construction Team
Long before any site work begins, Granger's pre-construction team begins visualizing every aspect of the project and structure. Our strength in exceptional up-front planning is a major factor in lowering overall costs and avoiding unnecessary change orders. Granger's industry leading approach empowers informed, up-front decision making, leading to a no-surprises construction phase and delivering an extraordinary finished project.
Envision Process
Before construction begins and requirements are gathered, Granger brings in the experts to help further define and identify the key aspects to approach your construction. When you are empowered with the vision to understand what different approaches and critical components mean to your project, you have the ability to clearly define scope, and envision the right approach from the very beginning.
Envision
Granger's unique Envision Program brings together the entire team needed for your vision. You leave with a clear plan to complete your project on-time and on-budget.
3-D Estimating
Our Building Information Modeling (BIM) capabilities provide opportunities for synergy with many other aspects of our pre-construction services. Modeling of alternative ideas helps support client decision-making, as we are able to develop detailed cost estimates derived directly from the information embedded in the 3-D model of the project. The model also facilitates 3-D logistics planning and construction phase simulation. When a client desires a building model as a post-construction deliverable, our team develops a BIM execution plan that is incorporated as a requirement in the bid documents.
3D Estimating
3-D Estimating allows us to accurately validate a project's cost estimation and view each detailed line item as it appears within a virtual model.
Start Construction
If you're ready to build, contact us to discuss your project specifics. Granger Construction takes an active role in helping clients to identify their unique needs and turning your vision into a successful project.
Functions
Granger's in-house Functions division specializes in mechanical, electrical and electronic systems design. As an important part of the Granger team, working relationships are strong, channels of communication are open and clients have professionals dedicated to their projects – concept through commissioning and beyond.
Mechanical and Electrical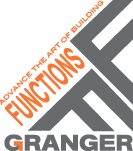 Granger Construction stands apart from most construction firms in that we have our own in-house FUNCTIONS Division which specializes in mechanical, electrical and electronic systems design. Because these professionals are an inherent part of the Granger Team, working relationships are strongly established, channels of communication are open and respected, and Granger clients have professionals dedicated to their projects — concept through commissioning and beyond.
These experts — all registered professionals with years of design and construction experience — possess the technical knowledge critical to the overall success of any project including budgeting, life-cycle costing, value engineering, constructability reviews, commissioning, quality control and CAD/BIM support expertise. They provide up-front analysis, input and proposed alternatives that often lead to discussion and/or decision opportunities that might not otherwise occur.
Estimating and Commission
BUDGET DEVELOPMENT AND EVALUATION:
Our pre-construction team can work with you to develop a new project budget or evaluate an established one. We bring value to the process by identifying pitfalls before the project design evolves and unrealistic expectations are set. Even in the early stages of design, a cash flow analysis may be created to inform accounting planning. We customize our reporting to either develop new presentation tools or integrate with established cost reporting procedures.
COST ESTIMATING:
Granger's comprehensive general contracting cost database ensures that our estimates reflect the most current cost of construction in the local project area. All estimating services — including civil, architectural, mechanical and electrical disciplines — are performed in-house. Our estimates are refined throughout the design process, starting with initial pre-design cost modeling and ending with intricate detail derived from the Building Information Model. At each stage of design, our estimators infer and incorporate items not shown in the documents that are necessary to build the project in order to represent the full cost of construction.
COST REDUCTION AND VALUE ANALYSIS:
By engaging early in the design process, we are able to evaluate the cost impact of alternate scenarios and provide practical recommendations for building materials, finishes, equipment and systems so that informed selections may be made by the entire project team. We seek to propose options that reduce costs without reducing function or significantly altering the architectural intent. Our team thoroughly documents decision-making throughout the design process to avoid later confusion as the project scope evolves.
Latest News
Using thermal imaging to save energy, prevent headaches
As advanced technologies go, the use of thermal imaging may be one of the most indispensable to the construction industry. With a continued focus on energy efficiency and preventative maintenance, thermal imaging technology allows builders to identify issues quickly and communicate to owners about potential solutions before they become larger issues.
Read More
IAN
CLUTTEN
Director of Pre-Construction Services
Granger is well-known for working with customers to understand their unique needs and delivering a variety of high-quality pre-construction services.
Contact Ian