What are the tangible benefits of thoughtful planning
on a construction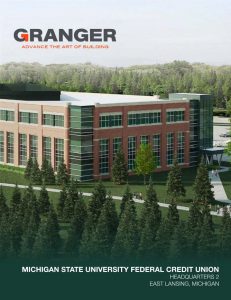 project? How can the planning process positively affect the project from the very beginning and continue long after the first shovel is put in the ground? The answers to questions like these are on display in East Lansing, Michigan at the Michigan State University Federal Credit Union headquarters (MSUFCU HQ2) project.
Since 2014, Granger Construction has been the construction manager for MSUFCU HQ2, and, from the very beginning, intentional planning has led to a high degree of collaboration and efficiency.
Click on the graphic to learn more!