LANSING, MI | September 19, 2019 | As Michigan's first-ever Cross-Laminated Timber (CLT) building reaches its halfway mark, the project team on the Michigan State University STEM Teaching and Learning Facility reflects on lessons learned.
"There have been many exciting firsts for all of us," notes Bill Bofysil, Granger Construction Project Manager. "Not only is this the first building in the state constructed using CLT mass timber, it's also the largest project our timber supplier, Nordic Structures, has ever done in the United States."
Work with Experienced Partners
"If I had to identify key takeaways learned so far, my first piece of advice would be to work with experienced partners. For years, commercial construction has used steel and concrete for framing. But as we switch to mass timber, we've realized you cannot use the same properties. For instance, if you try using steel properties for engineering and design calculations, you will likely oversize the members, resulting in increased project costs. An experienced partner – like our partners at Nordic Structures, Integrated Design Solutions and SDI Structures – will help you consider details like this early in your project, ensuring things are done right the first time.
Design Early
Second, I suggest engaging timber providers as early as possible. With many construction projects, you receive better quotes from subcontracting partners the faster you provide finalized details. However, mass timber brings additional challenges, such as limited regional supply, installation, handling and structural stability factors. All of which require additional coordination with designers earlier in the project.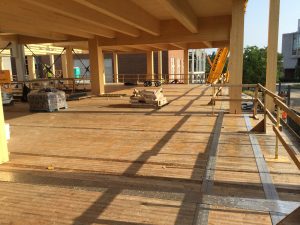 At MSU STEM, we have applied a Lean construction approach by integrating design specs with BIM modelling software for coordinating the new CLT mass timber flooring products with our overhead utilities. Unlike concrete floors, CLT requires steel strapping to evenly distribute load across the floor throughout the building. Therefore, cutting through a single strap compromises the building's structural integrity. With BIM modelling, we can show exactly where the straps are placed, in 3D view, and coordinate through-slab utilities to avoid clashing. This level of detail has been instrumental, and helps mitigate errors, keeping the project on time and on budget.
Know Flow and Sequence
Another key focus area is knowing the project flow and sequence of installation. One major benefit with mass timber is an expedited process for overhead utility installation. As soon as a level is complete and workers begin the next level, you can get people in to start driving anchors and working on overhead rough-in. However, given the scarcity of mass timber in this region, order lead time is at least two months. To ensure materials are available when you need them, it's especially important to use the Lean principle of Pull Planning for sequencing your project.
For the STEM project, we took the deadlines set by MSU and used those to identify major milestones. We knew MSU STEM needed to be erected from east to west, so we parceled the building into three sequences and drilled down to determine realistic timelines for workflow in each sequence. For instance, how many columns could we set each day? How long would it take to install each beam? Using Pull Planning to outline a detailed flow and sequence plan has helped keep everyone working as efficiently as possible.
Consider Material Handling
The final piece of advice I'd give to others considering a mass timber project is to think about how you will handle the material on the jobsite. This is a finished product, meaning you shouldn't need to do any sanding, staining or painting. It is also softer than steel, making it more susceptible to dings and scrapes.
At MSU STEM, we've rigged protective plywood layers around every mass timber column once it's installed to prevent damage during other construction. We've also made special accommodations with fall protection railing to ensure our team members are safe without compromising the finished product.
Moisture content is also an important consideration. Wood absorbs water, and while our project team selected a mass timber material fabricated to a low moisture content of 12%, we still need to monitor materials when it rains or snows to ensure it stays below 16-18% moisture content. Anything higher will compromise the installation process, and you will need to wait for the material to dry.
There are benefits and challenges to working with mass timber; the more your project team can solidify detailed plans and processes before beginning construction, the smoother your project will progress.
We are thrilled to have the privilege to deliver Michigan's first CLT mass timber facility, and honored that MSU chose us at their CM partner for the STEM project. Architecturally, this building will be one of a kind, and we can't wait to see the finished product."