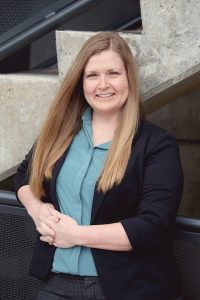 June 21, 2022 | Granger Construction Company is excited to accelerate its Midwest growth by welcoming Margie Ramsey as the new Regional Director of Ohio.
"Our Ohio office started as a one-person operation," notes Granger Executive Vice President Dennis Carignan. "We started our operations in a single room office in 2017 and are proud to have grown to over $130M in backlog in five short years. Margie's key focus is growing the strength of our team members and customer advocacy across the state. We are thrilled to welcome her to the team and look forward to continued success under her leadership."
"Construction is something I am passionate about," notes Ramsey. "It is so much more than just 'bricks and sticks.' It gives us the opportunity to listen intentionally to our clients' needs and understand what their project means to them and to the community they serve. It's about seeing patients get an updated space where they can heal better and with peace. It's about providing a space where students can learn free from limitations. It's about providing services to a community that can function better operationally and keep people safe. These are the reasons that drive me to streamline processes and help serve our clients better. Focusing on the mission of every client and their project, throughout the process, helps align the team's focus and purpose and overall provides a better construction experience. I am excited to join Granger, a company with a long history of sharing those same values, that supports and provides the resources to accomplish a more meaningful construction experience for the clients we serve."
Ramsey graduated Magna Cum Laude from The Ohio State University with a Bachelor of Science in Construction Systems Management. With over 19 years of experience in the industry, Ramsey is also passionate about mentoring young women to explore career opportunities in construction.