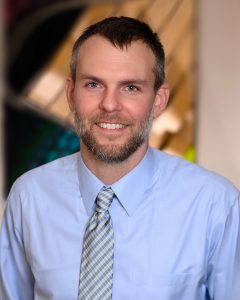 April 18, 2023 | Granger Construction Company, an ENR Top 400 Contractor, announces the promotion of Jeff Havranek to the role of Regional Director of Southeast Michigan.
"I am thrilled to embark on my next chapter with Granger and look forward to reinforcing operational support to our projects in the region and providing continued exceptional customer experience," notes Jeff.
Jeff received a bachelor's degree in construction management from Eastern Michigan University and has worked in the construction industry since 2002. He is well-versed in all aspects of commercial construction management and is a LEED® Accredited Professional.
Jeff originally joined Granger as a project engineer in 2006, assisting with a variety of projects. In 2012, he relocated to Washington to provide on-site leadership for a joint venture for the Nisqually Tribe. Upon project completion, Jeff chose to remain in Washington, and transitioned to work for a local construction management firm.
"We hated losing such a valuable team member," notes Granger Construction CEO Glenn Granger. "But during his absence from Granger, Jeff gained valuable expertise as a client manager and sales executive."
Jeff returned to Granger in 2020 after moving back to Michigan. He has been operating as a project director, providing leadership for the nearly completed DTMB Caro Psychiatric Hospital project and leading pre-construction efforts for various projects in the public sector and commercial market. Jeff has also been instrumental in several business development pursuits.
"From pre-construction through project completion, Jeff has led key projects across stakeholder groups, routinely exceeding expectations," notes Granger President Dennis Carignan. "As Granger Construction continues to grow, I cannot think of a better mentor to lead our Southeast Michigan team and help improve the customer experience."
In his new role, Jeff will take on responsibility for oversight of sales and operations within the Southeast Michigan region.