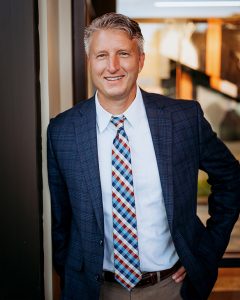 September 28, 2022 | Granger Construction Company, an ENR Top 400 Contractor, announces the promotion of Dennis Carignan to President. Dennis has been a critical member of Granger's team for 24 years, serving the company in multiple capacities, including project management, estimating, pre-construction and most recently as Executive Vice President.
Glenn Granger, who became President and Chief Executive Officer in 2000, made the announcement. Glenn will remain CEO.
"This promotion recognizes the role Dennis has been effectively performing, guiding operational excellence and creating value for our customers and team members," notes Glenn Granger. "He has taken a collaborative approach to developing a compelling vision for Granger's future, which includes reimagining our organizational structure to better align with projected growth. As our company continues its trajectory and we further solidify our position as a leading construction management firm, Dennis' leadership will prove invaluable."
"I am incredibly grateful for the opportunities this company has offered over the years and inspired by the talent and leadership I see at every level of this organization." notes Carignan. "I'm convinced there's nothing this team can't accomplish and I'm excited for the future of our people, our clients and our trade partners."
Dennis received a bachelor's degree in construction management from Michigan State University and a master's degree in business administration from the University of Michigan. He currently serves on the Board of Directors for AGC Michigan as Vice Chair.