Aerial technology being rapidly embraced by construction industry
Technology in the construction industry is a hot topic lately, in large part because of advancements in software applications that help improve project planning and management which ultimately lead to faster and leaner project deliveries.
But another way in which technology is beginning to have a significant impact on the industry is through the use of drones, otherwise known as Unmanned Aerial Vehicles (UAVs). Leading-edge companies who are using drone technology are experiencing benefits such as reduced costs and waste and increased safety on their projects.
Today, the most common way construction firms are using drone technology is for aerial photography to be used for marketing purposes and project documentation. Firms either hire a professional or use their own equipment to film aerial photos and video of construction projects from multiple angles, both throughout construction to show the transformation of the site and facility, as well as at project completion to show the finished product.
In recent years, drones have redefined the market when it comes to documenting the progress of projects and in marketing projects to potential clients. Arguably, there's no better way to capture a new project than from a bird's eye view or an engaging fly-through video.
"When companies see the finished product of not just still photos, but cinematic, dynamic video, they soon realize they're on the cutting edge and the forefront of this new technology," said Greg McMaster, founder and co-owner of Eagle Eye Drone Service in Kewadin, Mich.
A significant advantage lies in the fact that drones are cheaper than using an airplane or helicopter service, and the images are typically higher quality since drones can get much closer and show more detail. Granger Construction has used drones to document progress on several projects, including the Health Pointe project in Holland, Mich., and the Wexford County Jail project in Cadillac, Mich.
Although most construction companies begin by using drones for marketing and promotion, industry analysts suggest that drone usage is still in its infancy.
"The construction industry is still in the early stages of understanding how this technology can help our companies, our clients and our projects," said Rob Train, vice president at Granger Construction.
Experts predict drone use in construction will soar in the coming years as companies realize how these devices can play a pivotal role in project planning and management.
"I truly believe that, down the road, drones will change the way we plan and manage our construction projects," said Train. "I expect they will be another "must-have" for cutting edge construction firms, similar to what's happening with tablet-based technology becoming the norm on today's job sites."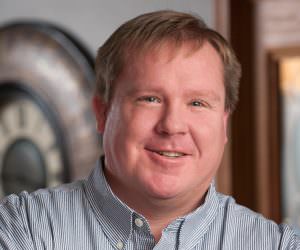 In addition to capturing images for marketing and promotional uses, here are some other examples of how construction firms are using drones, or will be:
Building and Land Surveys/Pre-Construction Planning
Data collected from a greenfield site prior to construction can serve as the foundation for design, estimating and construction planning. Project teams can evaluate site topography, conditions and volumes from real-time data instead of relying on third-party maps that may be out of date and inaccurate. Data collected via an aerial survey can be used to perform estimating takeoffs, create logistics plans or even used to create a Building Information Model (BIM) which clearly shows exactly how a building is going to look like after the whole construction process is done.
Managing Job Site Safety, Logistics and Materials
With the right software applications, builders can use sensor data collected from their drone video to monitor and manage job sites. From a safety perspective, drones allow project managers to see every detail of a site in its current state, even from a remote location. They can use that information to plan workflows, update site logistics plans and identify potential safety hazards such as high-traffic areas, crane clearances, active excavation areas, etc.
In addition, critical construction assets such as building materials, equipment, temporary roads and structures can be identified and labeled on maps, while stockpiles of costly resources like sand and gravel and excavation volumes can also be calculated and monitored. This type of information allows construction companies to more efficiently manage and deploy resources around a job site, minimize potential issues, trim costs and limit delays.
Inspections
Inspections are a key part of every construction project, and a drone equipped with a camera can be used to perform certain inspections safer, faster and easier than the traditional methods. This is especially true for areas that are not easily accessible such as exterior windows or the roof of a tall building. In most instances getting access to a roof can be difficult and can involve the erection of a scaffold, use of a cherry picker or ladders. Using a small drone to perform the survey can save time, money and reduce health and safety risks. Technological advancements now enable drones to carry cameras that can transmit live video feed, known as "first person view," providing real-time footage to inspectors on the ground.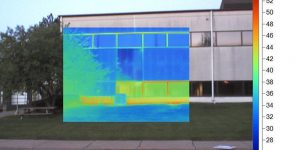 Thermal Imaging 
Similar to laser scanning, drones can be used to take aerial thermal imaging recordings which can be used to assess potential cold spots in buildings or hot spots in areas holding electrical components. This can give engineers and surveyors essential information when trying to identify and rectify building defects.
Another use that is not yet realized, but certainly being discussed, is the transporting of materials. It is very likely that one day drones can be used to save money in transporting small loads of parts, supplies and materials on high-rise and/or vertical construction projects.
"Drones may still be a future concept for many construction companies, but innovative firms like Granger are already experiencing real benefits from them," said Train. "We definitely plan to gradually expand the use of these high-value devices on our project sites."