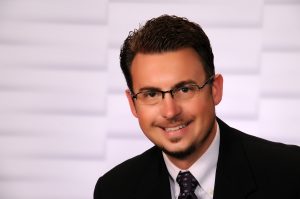 At Granger Construction, our teammates are our most valuable assets. Meet Cory Maurer, Electrical Estimator with Granger's Mechanical, Electrical and Plumbing (MEP) Estimating team.
Name: Cory Maurer
Title: Electrical Estimator
Project/Team: MEP Estimating
Alma Mater/Education: Northwood University, Business Administration
First Year at Granger: 2015
What key factors led to your current career/role with Granger?
I've been working in electrical contracting and estimating since 1997. At the time, I was a student at Michigan State University, just looking for a job to pay the bills. My wife (then girlfriend) had a position with a small contractor. She mentioned they were hiring, and the role didn't require much experience. I applied and got the job.
I switched to night classes and worked during the day, doing mostly low-voltage projects. After two years, the company's owner asked if I'd be interested in transitioning to the office and learning project management and estimating. Simultaneously, some journeyman electricians I worked with in the field suggested I go the opposite direction and apply for an apprenticeship program.
Sometimes I regret not getting my journeyman's license, but I chose the office position and have continued with project management and estimating roles ever since.
What are some of your favorite aspects about your job?
Prior to Granger, I'd always worked for smaller companies; I've really enjoyed getting exposure to bigger projects with more complex electrical systems.
Doing 2- or 3-room renovations is very different than handling a 200,000 square foot building. For instance, I recently completed work on a large-scale data center project, requiring a complete build-out, sub stations, cooling systems and power, etc. I was forced to dive deep and find answers to problems I'd never faced before. I enjoyed the challenge.
It's also great being able to see the positive impact my team has on a project's success. In many cases, we're involved from conceptual idea through owner occupancy. This level of engagement really increases our ability to impact the overall customer experience.
By participating in constructability reviews before new phases, we can identify errors and omissions that would probably come to light eventually, but if it's later rather than sooner, they could mean additional costs to our clients. Instead, our team's initial efforts help reduce costs and add to the overall quality of the final design.
What is your best construction job tip?
Every one of us starts with limited skillsets, so don't be intimidated by the unknown. Embrace the journey. Find something that interests you and dive in, ask questions, learn, ask more questions and understand that mistakes can be the best opportunities for improvement.
Just because something is your job, that does not automatically mean you know everything. You definitely don't want to misrepresent your skills, but you do need to be willing to ask for help.
A good company culture includes an environment where people are willing to acknowledge their weaknesses. Then the company, in turn, does everything it can to encourage growth in those areas and lend support. Granger has done this since day one.

What is one fun fact about yourself or your job?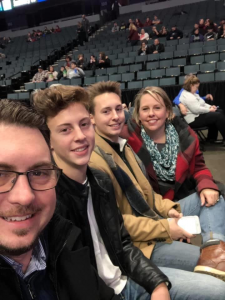 Outside work, I enjoy hunting, camping, being outdoors, learning and spending time with my family. My wife and I have been married for 21 years and we have two sons. One is a pilot and sophomore at Western Michigan University. The other will be a senior in high school next year. 
Growing up, I was heavily involved in raising and showing cattle. I spent time on various cattle associations and boards from my early to late teens. Now, I live on a piece of property adjacent to farmland that's been in my family for generations. I inherited half this property and recently bought the remaining half to keep it in the family. This acquisition brought many necessary renovation projects, so I am currently not bored!