Granger Construction of Lansing along with Integrated Design Solutions of Troy have been recognized by the Associated General Contractors (AGC) of Michigan with the coveted 2016 Build Michigan Award for the University of Michigan GG Brown Laboratory Building Renovation project in Ann Arbor, Mich.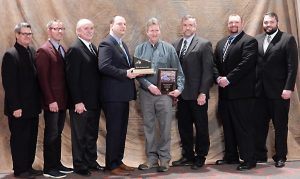 The award was presented during AGC's annual meeting on Friday, February 24 at the Motor City Casino Hotel in Detroit. The Build Michigan Award recognizes excellence in commercial construction throughout the state.
"We are very honored to receive one of the most prominent awards in our industry," said Granger Construction President and CEO Glenn Granger.
Constructed in 1958, the 220,000-gross-square-foot GG Brown building hosts the College of Engineering's Mechanical, Civil & Environmental, Chemical and Materials Science Departments. Tremendous growth in the Mechanical Engineering Department, which has expanded to include emerging research areas like bio-systems, energy exploration and the study of nano-scaled components, was the driving force behind this project. Major improvements to the department's facilities were necessitated by the needs of researchers in these new fields.
"This project exemplifies thoughtful pre-construction planning, safety innovation and remarkable success based on extraordinary teamwork," said Paul Roller, Granger's senior project manager. "The renovated facility, which features instructional laboratory space, infrastructure improvements and expanded faculty, staff and student areas, will help U-M continue its vision of providing a truly world-class educational experience and state-of-the art research capabilities."
Build Michigan Award entries are judged on a variety of criteria, including: meeting the challenge of a difficult job; excellence in project management; innovation in construction techniques; sensitivity to the environment; responsiveness to client needs; and the contractor's contribution to the community.