January 28, 2021 | This mass timber feature premiered as the cover story for The Michigan Constructor's Winter 2020 issue. Click here to read the original piece in full.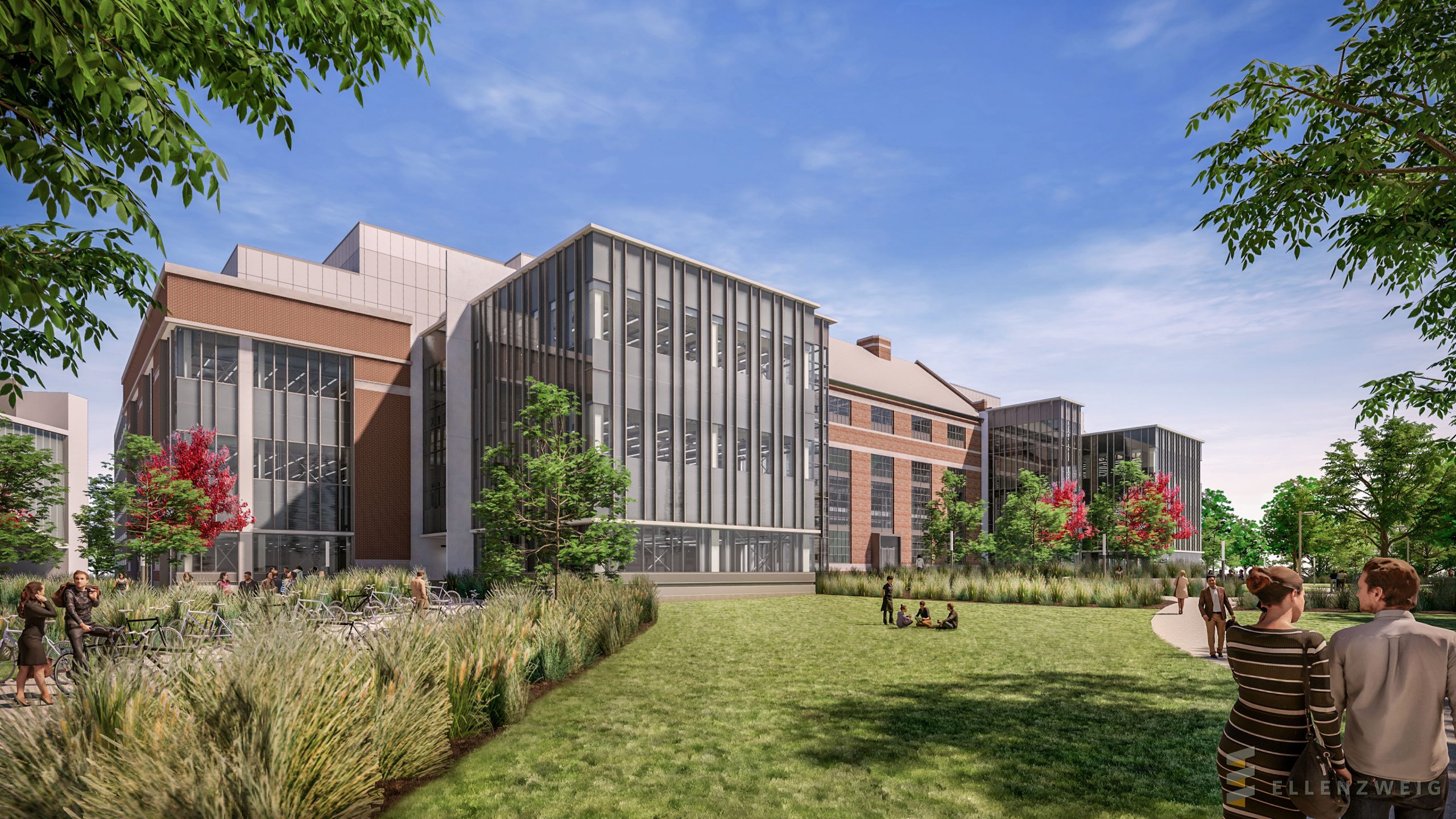 Michigan State University's new STEM Teaching and Learning Facility is the first building on campus, and one of the first in the state, constructed with a newer mass timber framing product called cross-laminated timber (CLT). Situated on the site of MSU's disbanded Shaw Lane Power Plant (1948–1975), this facility demonstrates an exemplary blend of adaptive reuse techniques with the innovative, sustainable mass timber materials, encompassing 120,000 square feet (SF) of new construction with 40,000 SF of renovated space.
MAJOR OBJECTIVES
The overarching goal for this project was to create infrastructure that could serve to 1) improve and enhance MSU's undergraduate learning experience, 2) support experiential teaching and learning, 3) attract and retain more students in STEM disciplines and 4) better prepare these students for professional careers in fields of science, technology, engineering and math.
By choosing to use CLT mass timber materials, university officials also ensured this new facility would offer best-in-class features in terms of fire resistance, sustainability, efficiency and strength.
LESSONS LEARNED
"When implementing CLT on such a complex project, the MSU STEM project team faced a few planning challenges," notes Granger Construction Vice President Tim VanAntwerp. "Of these, four key takeaways would be to 1) engage key partners early, 2) capitalize on technology such as BIM, 3) cast a wide net among timber partners and 4) focus on the fine details as early as possible."
1) Early Engagement:
As with any new construction system, mass timber brings additional challenges, and assembling a high-performing design, construction and trade team as early as possible will result in a better project outcome. Early engagement and integration of design, construction and timber partners is an essential element to success for a complicated timber project like MSU STEM. Ideally, the design and CM teams are hired together at the conceptual stage to optimize the program, building structure, schedule and total project budget. Once the program has developed to a schematic stage, engaging the timber vendor in a design-assist capacity is generally recommended to allow for full optimization of the timber design, and afford earlier integration into subsequent mechanical, electrical and plumbing (MEP) and architectural design and construction planning work.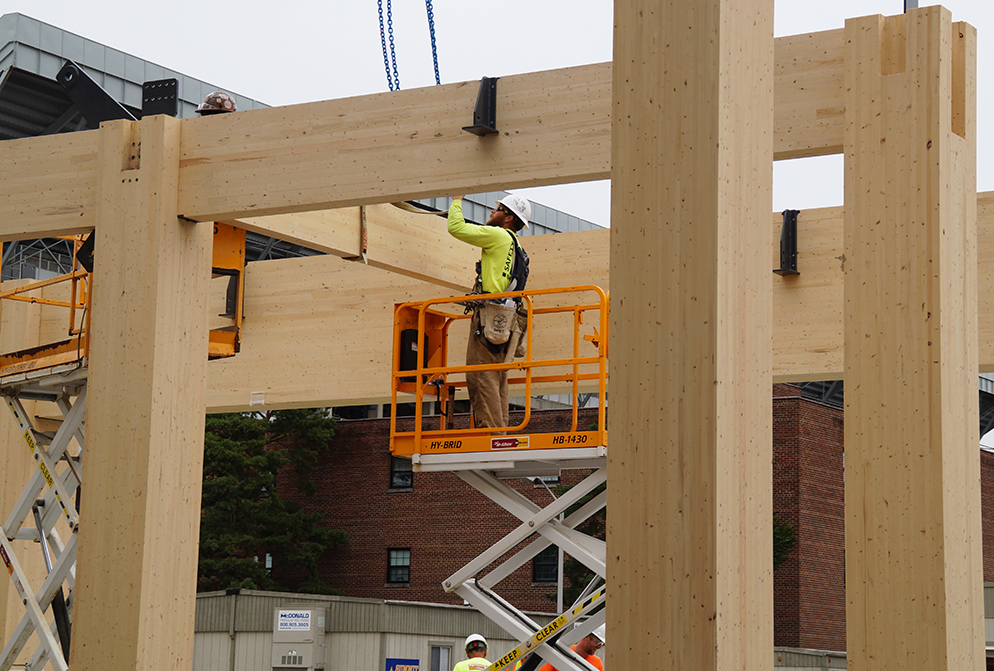 2) Leveraging BIM:
Using mass timber materials in place of traditional steel and concrete for structural design requires an entirely new level of understanding and coordination, making it more important than ever to leverage Building Information Modeling (BIM) on any mass timber projects, regardless of size.
"Leveraging technology and conducting weekly BIM coordination and planning meetings have been very useful to lean-out processes and eliminate waste at MSU STEM," notes Granger Construction Project Manager Bill Bofysil. "This has allowed our team to address potential issues early, saving both time and money. For example, when placing CLT floors instead of traditional concrete, our team needed to secure steel strapping to evenly distribute load across the floor throughout the building. Cutting through a single strap would have compromised the building's structural integrity. But with BIM modelling, we were able to see exactly where the straps were placed, in 3D view, and coordinate through-slab utilities to avoid clashing. Similarly, because MSU STEM's design is open-concept, where much of the conduit and ductwork is showing, it has been especially important to make sure these design elements are both aesthetically and functionally correct prior to construction. This level of detail has been instrumental and helps mitigate errors, keeping the project on time and on budget."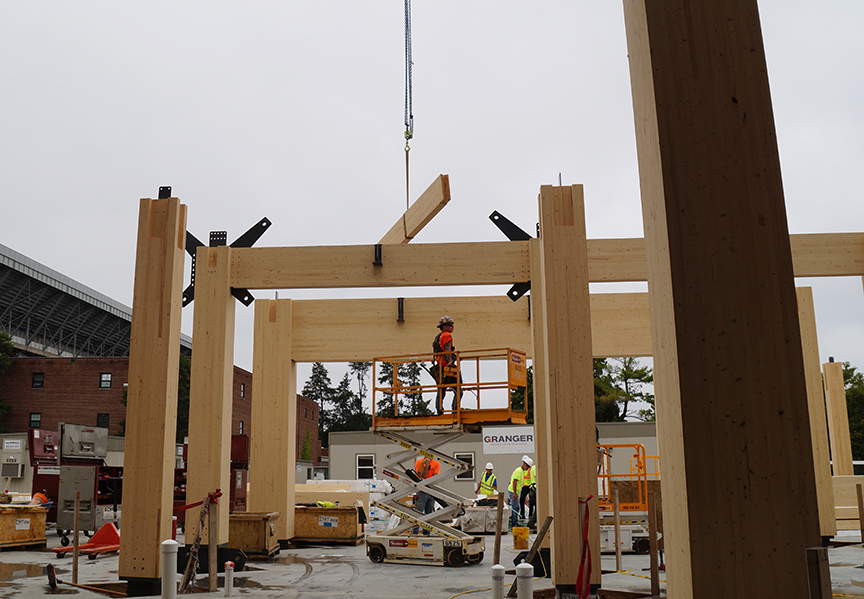 3) Finding Trade Partners:
As of 2018, there were no CLT manufacturers in Michigan capable of fabricating and executing a CLT project of MSU STEM's scale. Further, CLT manufacturers were using their own locally sourced timber fiber materials, and not yet sourcing from Michigan. To make it even more challenging, few area firms had the necessary expertise, experience or willingness to undertake the installation of a timber project as large as MSU STEM. Because the pool of experts is relatively small in Michigan at present, it is vital that owners looking to use mass timber on their projects cast a wide net, network aggressively and secure experienced partners early. For MSU STEM, outreach was made to vendors across North America, and site visits were made to multiple projects in the Northeast to further build interest and a network of partners willing to take a chance and come to Michigan to execute this unique project. There is tremendous momentum with the state of Michigan to continue to grow the mass timber supply chain, and hopefully, we will soon develop a deep bench of in-state fabricators and installers.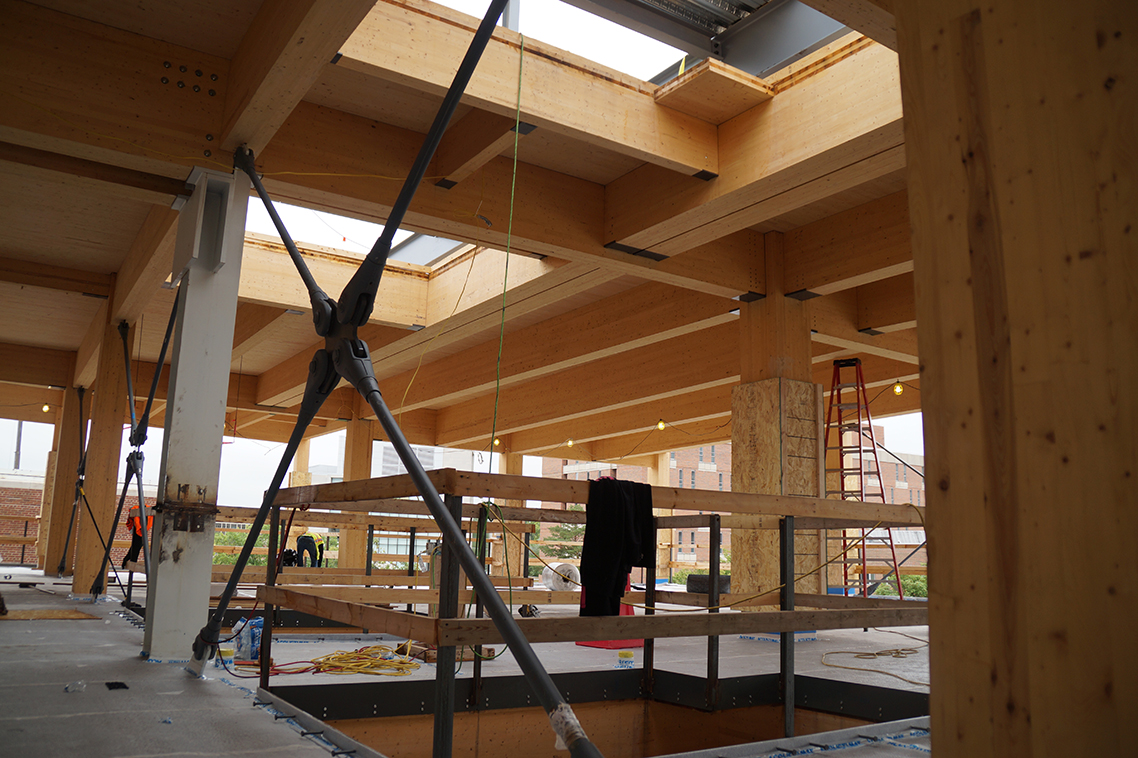 4) Attention to Detail:
"There are many details you have to consider when using mass timber in place of traditional materials," says VanAntwerp. "These include major considerations like structural, envelope and MEP systems integration — but also the small details down to final cleaning, material handling and protection, moisture control and insurance."
This is a finished product, meaning you shouldn't need to do any sanding, staining or painting. It is also softer than steel, making it more susceptible to dings and scrapes. At MSU STEM, the team rigged protective plywood layers around mass timber columns in high-traffic areas after installation to prevent damage during construction. They also made special accommodations with fall protection railings, ensuring safety without compromising the finished product.