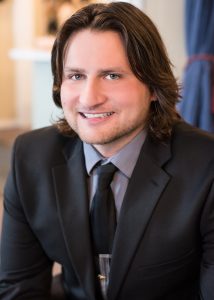 Wednesday, April 14, 2021 | Planning is essential for success on every construction project, but in active healthcare facilities, it can be lifesaving. In the following interview, Granger Project Manager Wes Avery discusses his path to a career in healthcare construction, as well as some of the lessons he has learned along the way.
"Wes is dedicated to the success of all his projects and project stakeholders," notes Granger Senior Project Manager Mike Kissane. "That passion is evidenced by the respect he has gained from the Owner's representatives, design professionals and trade contractors and vendors he has worked with. Recently, Wes also demonstrated this willingness to put his projects first by pursuing and completing accreditation as a Certified Healthcare Constructor (CHC) from the American Society for Health Care Engineering. This certification is of vital importance to our healthcare team at Granger, as it helps prepare our team members to better navigate the unique code requirements and patient and occupancy safety needs, as well as other factors involved in working in a healthcare setting. We look forward to Wes' continued project leadership."
WHAT LED TO YOUR CURRENT CAREER IN HEALTHCARE CONSTRUCTION?
Growing up, I was fortunate enough to be raised working with my hands with my family, primarily in residential construction. I knew this was something I wanted to continue in my own career. When I started school at Ferris State University (FSU), I was initially interested in Architecture, but later realized the Construction Management program was a better fit. After my first year in college, I started an internship in the K-12 market, which led to me working construction projects year-round until I graduated from FSU in 2006.
I spent about 10 years working on Higher Ed and K-12 projects before switching to pursue a career in specialty trades management. There, the focus was primarily one discipline, and project timelines were very quick. It was a new challenge and a major industry shift for me; in August of 2019 I shifted back to large-scale construction management projects.
I joined Granger Construction in early February of 2020, and was excited at the opportunity to work closer to my home in the Lansing area. I was initially brought on for my Higher Ed and K-12 background, but opportunities led to me joining Granger's Healthcare market team instead, and I have really enjoyed getting to know and work with this team.
WHAT ARE SOME OF YOUR FAVORITE ASPECTS ABOUT YOUR JOB?
I enjoy seeing a project evolve from a concept to an operating facility. More specifically though, I appreciate the relationships built along the way, the team atmosphere, and the opportunities that bring us together and help us grow individually. Add in the dynamic of highly complex and functional healthcare systems, and teams where safety, health and wellbeing are heightened areas of focus, and you cannot beat that level of satisfaction.
From the medical professionals working a case to the patients first walking through the door, our commitment to safety and wellbeing has to be aligned with the facilities for both the public and our construction teams.
I admire healthcare professionals and everything they do in the course of saving lives, repairing all types of body systems, bringing new life into the world and caring for those exiting the world. To be part of creating the spaces for all of this to happen is incredible.
My favorite healthcare project to date is Sparrow Hospital's Hybrid Operating Room in Lansing, Michigan. Working in an operating surgery suite like this brings an entirely different level of detail and complexity. This included all the rough-in and installation of very specialized equipment and devices. At the time, Sparrow's Hybrid OR was one of only maybe two or three facilities in the county equipping itself with cutting-edge Siemens equipment, so it was a new type of construction that needed to happen.
WHAT IS YOUR BEST CONSTRUCTION JOB TIP?
In healthcare construction, many learning opportunities come from the non-negotiables of the client. For example, on the Sparrow Hybrid OR project, we were building in the middle of a functioning surgery suite, with three sides adjacent to active operating rooms. Vibration and noise could not occur at levels which would interfere with ongoing healthcare operations. The project team also needed to schedule work to coincide with the best available time frames to not interfere with daily operations. The surgery suite never closes, but at night they primarily focus on traumas from the Emergency Department. This meant the project team performed the majority of work during third-shift, which added complexity to the overall project scheduling and trade coordination.
The best approach with healthcare projects in occupied facilities that run 24/7 is to discuss how the construction is going to happen and methods for minimizing interruption as early in the planning stage as possible. It's also important to involve the doctors, nurses and clinical staff who will be using the space in these discussions.
It's critical to establish and maintain good communication with all subcontractors on these types of projects. During bidding, we need to make sure potential trade partners know the non-negotiables and other intricacies required to work in the occupied space. Then throughout the project, pull planning is probably the most common tool I like to use. This method brings everyone together to plot out who will work when in what space, to establish clear and realistic timelines. This enables us to be as efficient as possible with whatever limited windows we have to work within occupied spaces so we can get in, get our work done, and get out. Once we know how the schedule needs to flow, we can start exploring potential opportunities to improve dates, material types and other constructability aspects to achieve those schedule deadlines.
WHAT IS ONE FUN FACT ABOUT YOURSELF?
I am a father of three. My daughter Grace is 13, son Noah is 11 and youngest daughter Mariah is 9. Remaining active and supportive of my kids launched my passion for helping others. This also has led to my life goal of continually demonstrating to my children the importance of personal development and self-care. I have learned and lived that personal value; wellbeing can only be expanded or grown by working harder on ourselves than we do anything else. I take self-care, mental health and personal development very seriously, paving the way for my journey to the best version of myself.