Granger Construction has a long-running internship program, employing college students each year in the office and on-site at various projects. Meet Angelo Barnes, a member of Granger's 2019 Summer Internship Program.
Name: Angelo Barnes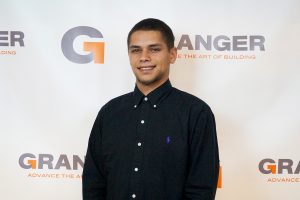 Hometown: Lansing, Michigan
School: Eastern Michigan University
Field of Study: Construction Management
Year at School: Junior
ABOUT ANGELO:
Angelo was stationed at the Eastern Michigan University REC/IM Center project as a Project Engineer Intern. He noted he was most excited to use the internship to develop and hone skills he had learned in the classroom through personal experience. During his internship, Angelo's daily responsibilities included helping his project team with submittals, RFI's, meeting minute notes, and much more.
Q: How did you decide on your field of study?
A: "I decided on my major mainly because of family influence, as well as the intrigue in building construction."
Q: How do you think this internship will impact your future goals?
A: "I think my internship at Granger will provide me valuable and applicable information I will use in situations during my career in construction management."
Q: What is one fun fact about yourself?
A: "A fun fact about myself is that I am a good athlete, especially in hockey."