Granger Construction has a long-running internship program, employing college students each year in the office and on-site at various projects. Meet Jacob Overberg, a member of Granger's 2019 Summer Internship Program.
Name: Jacob Overberg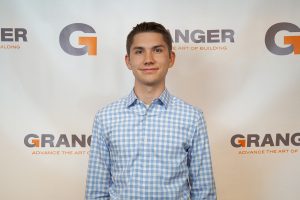 Hometown: Troy, Michigan
School: University of Michigan
Field of Study: Civil Engineering
Year at School: Sophomore
ABOUT JACOB:
This summer, Jacob was stationed on the University of Michigan School of Dentistry project in Ann Arbor, Michigan. "I [was] excited to get to work on the jobsite and learn from the team around me," noted Jacob. Jacob also expressed that he looked forward to seeing the building process. During his internship, Jacob's daily responsibilities included assisting with submittals, RFI's and much more.
Q: How did you decide on your field of study?
A: "I chose civil engineering because I enjoyed Physics classes and I wanted to be a part of building on a large scale."
Q: How do you think this internship will impact your future goals?
A: "This internship will help inspire me through the next few years of college and it may determine how I go about the rest of my life."
Q: What is one fun fact about yourself?
A: "A fun fact about myself is that I play the euphonium in the University of Michigan Marching Band."