Granger Construction has a long-running internship program, employing college students each year in the office and on-site at various projects. Meet Jacqueline Mack, a member of Granger's 2019 Summer Internship Program.
Name: Jacqueline Mack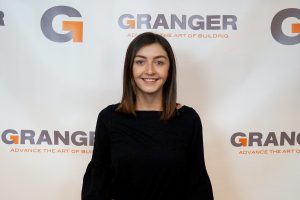 Hometown: Bloomfield Hills, Michigan
School: Wayne State University
Field of Study: Civil Engineering
Year at School: Junior
ABOUT JACQUELINE:
Jacqueline was stationed at the Wayne State University STEM project, serving the role as a Project Engineer Intern. "I [was] most excited to be able to work with a team that is passionate about what they are doing and passionate about educating the next generation of professionals", noted Jacqueline. During her internship, Jacqueline assisted her project team with handling submittals, BIM coordination and scheduling with the foreman on site.
Q: How did you decide on your field of study?
A: "I have always been interested in architecture and everything that goes into it. Civil engineering was the perfect major for me to be able to work with architecture and put my skills in math and science to work."
Q: How do you think this internship will impact your future goals?
A: "When I graduate, I want to work towards being a Construction Manager. This internship will help contribute to giving me the education I will need to accomplish this. I cannot wait to learn everything that goes into this position."
Q: What is one fun fact about yourself?
A: "One fun fact about myself is that I have lived in three different states; Texas, Georgia, and Michigan."