Granger Construction has a long-running internship program, employing college students each year in the office and on-site at various projects. Meet Joe Weller, a member of Granger's 2019 Summer Internship Program.
Name: Joe Weller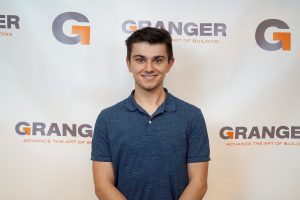 Hometown: Portland, Michigan
School: Western Michigan University
Field of Study: Civil Engineering
Year at School: Junior
ABOUT JOE:
Joe was stationed on the Sparrow CCS Suite project in Lansing, MI this summer, serving Granger as a Project Engineer Intern. "I [was] most excited to learn about vertical construction, including the management side of it", noted Joe. During his internship, Joe's daily responsibilities include handling submittals, RFI's and other needs on the jobsite.
Q: How did you decide on your field of study?
A: "I went to Western as an undecided engineering major and ended up speaking with each department and decided that Civil Engineering was right for me."
Q: How do you think this internship will impact your future goals?
A: "I think this internship will help me to decide where I would like to take my career and what I would like to do once I finish college."
Q: What is one fun fact about yourself?
A: "A fun fact about myself is that I enjoy traveling and have been to almost every state in the country."