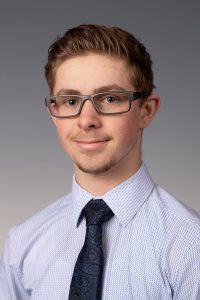 Granger Construction has a long-running internship program, employing college students each year in the office and on-site at various projects. Meet Bailey Bullock, member of Granger's 2020 Summer Internship Program. This is Bailey's first year as a Granger intern and he is working with our Pre-Construction Team at the Lansing, Michigan, Headquarters.
Name: Bailey Bullock
Hometown: Portland, Michigan
School: Ferris State University
Field of Study: Construction Management
Year at School: Junior
Q: How did you decide on your field of study?
A: I have always been very involved in and fascinated by the construction industry. During high school, I worked for a contractor. I even do a little of my own residential contracting now. I just hadn't initially considered construction as a career choice. My first year out of high school, I went to Grand Valley State University for Pre-Med. I did well in classes, but I quickly realized my major didn't fit me, and I began looking for other pursuits.
My girlfriend's father and brother are members of Granger's General Contracting (GC) team. I've always really enjoyed conversing with them about their work, and it finally clicked that the answer had been in front of me the whole time. I transferred into Ferris State University's Construction Management program the following year and absolutely meshed with the program and industry. It was by far the best decision I could have made.
Q: What has been your favorite experience from school so far?
A: In one class, we were assigned to build a structure from a maximum of one yard of concrete. I managed a team of six guys. Together, we designed and created a bar top, held up by custom supports that shaped the letters "FSU." I contributed the formwork, re-steel, and pour plans for the project, and my team members did a phenomenal job executing everything.
The project turned out beautifully. It was the first of its kind in many regards. But the coolest "first" was that it was the first project ever saved by my program! Our bar top is now displayed in the main entrance of the Granger Center in Big Rapids. It serves as both a show piece and educational model for future students.
This project was a really great experience, and now my team and I will forever be a part of the Granger Center and CM Program at FSU.
Q: What made you decide to intern with Granger?
A: When choosing an internship for this summer, I knew I wanted to stay local. This eliminated many options, but I knew many people working at Granger, and that they absolutely enjoyed the company. All the other local companies who made me offers were very similar in many regards, but after hearing so many good things and discussing possibilities with industry members, I was excited to accept the offer extended by Granger. Also, the internship program at Granger is really involved and just plain superior to many companies. Those who manage and organize the program do great work.
Q: What are you most excited for during your internship?
A: I'm really looking forward to experiencing the professional construction process from a company standpoint. Every company operates differently, and real-world operations are always different than those simulated in the classroom. Granger does an excellent job getting you incorporated into the company. I feel more like an employee than an intern.
Q: What has been the biggest challenge you have faced so far in your internship?
A: The COVID-19 pandemic has been a huge challenge. Everyone has so much going on right now, both in their professional and personal lives. These are very difficult and unpredictable times.
I'm thankful to Granger for even providing interns with opportunities right now. Of the eight companies that offered me internships this summer, six programs were either completely cancelled or greatly reduced in duration due to COVID-19. As a result, many of my fellow construction students are back home scooping ice cream or stocking shelves instead of gaining valuable industry experience. I have been extremely fortunate, and it is all thanks to Granger.
Q: How do you think this internship will impact your future goals?
A: So far, this internship has been a great experience with tons of takeaways I can apply in future classes and careers. But I also have found a place I really enjoy, so maybe that means a future career opportunity here.
Q: What is one fun fact about yourself?
A: At the bright age of seven, I entered a Junior Bass Fishing Tournament in my hometown and took first place with a six pound Smallmouth, upsetting many seasoned Bass fishermen! I won $500 and was pictured in the newspaper.