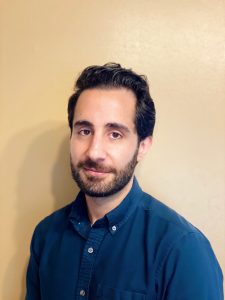 Granger Construction has a long-running internship program, employing college students each year in the office and on-site at various projects. Meet Elie Al-Alam, member of Granger's 2020 Summer Internship Program. This is Elie's first year as a Granger intern and he is stationed in the field with our McLaren Medical Services Building and Cancer Center project team in Lansing, Michigan.
Name: Elie Al-Alam
Hometown: Lansing, Michigan
School: Ferris State University
Field of Study: Construction Management
Year at School: Senior
Q: How did you decide on your field of study?
A: When I started my undergraduate studies, my first major was International Business. Then I switched to Economics because I have always been fascinated by the business world. However, I was introduced to FSU's Construction Management program by a friend during a time where I wasn't sure I wanted to continue pursue a career in econ. Growing up, my father was a contractor, so I have always been attracted to the construction industry. This led to me ultimately deciding construction was the field of study for me.
Q: What has been your favorite experience from school so far?
A: At Ferris, all the Construction Management classes require a lab session. I have really enjoyed the hands-on learning opportunities these offer.
Q: What made you decide to intern with Granger?
A: I am from Lasing, so I'm very familiar with Granger's work and excellent reputation in the field. This reputation inspired me to want to join the team.
Q: What are you most excited for during your internship?
A: I am most excited to learn how daily tasks are managed on-site, and how they are planned for during the meetings.
Q: What has been the biggest challenge you have faced so far in your internship?
A: Sitting in during meetings, I have realized that the construction industry uses its own language and terms that I need to learn. There are many names of materials and processes used during pre-construction and progress meetings with which I am unfamiliar, for example:
What is thermal cracking?
What causes the cracking?
How could it be managed?
I write these down as I encounter them, and later have a team member explain their meaning or research them myself. Being included in meetings will continue to help me understand these terms and processes.
Q: What has been your favorite experience so far in your internship?
A: I have been fortunate to be a part of a team that is invested in me and making sure I learn all the aspects of the industry. Helping everyone from the safety manager to the superintendent is keeping me engaged in the process.
Q: How do you think this internship will impact your future goals?
A: This internship will help me determine what path in the construction industry would suit me best. From my experience in previous jobs, it is best to play many roles and gain knowledge from each one to determine which path provides the best fit.
Q: What is one fun fact about yourself?
A: Outside of school and work, I enjoy working on cars, as well as driving them.