From safety gear to turn-around time, the global COVID-19 pandemic has revolutionized construction in the healthcare industry. In Lansing, Michigan, this change was exemplified in the five-day conversion of a 7,200 square foot, former Sears Auto Center near the Frandor Shopping Center, into a drive-through testing facility for Sparrow Health System.
"Prior to this pandemic, I don't think anyone would have chosen an old auto shop over a healthcare facility to receive testing," said Granger Construction Senior Project Manager Mike Kissane. "But there is nothing normal about the new normal."
Kissane led Granger's team in completing this renovation in an unprecedented, five-day timeline. In the following case study, he and his team share lessons learned from the Sparrow project.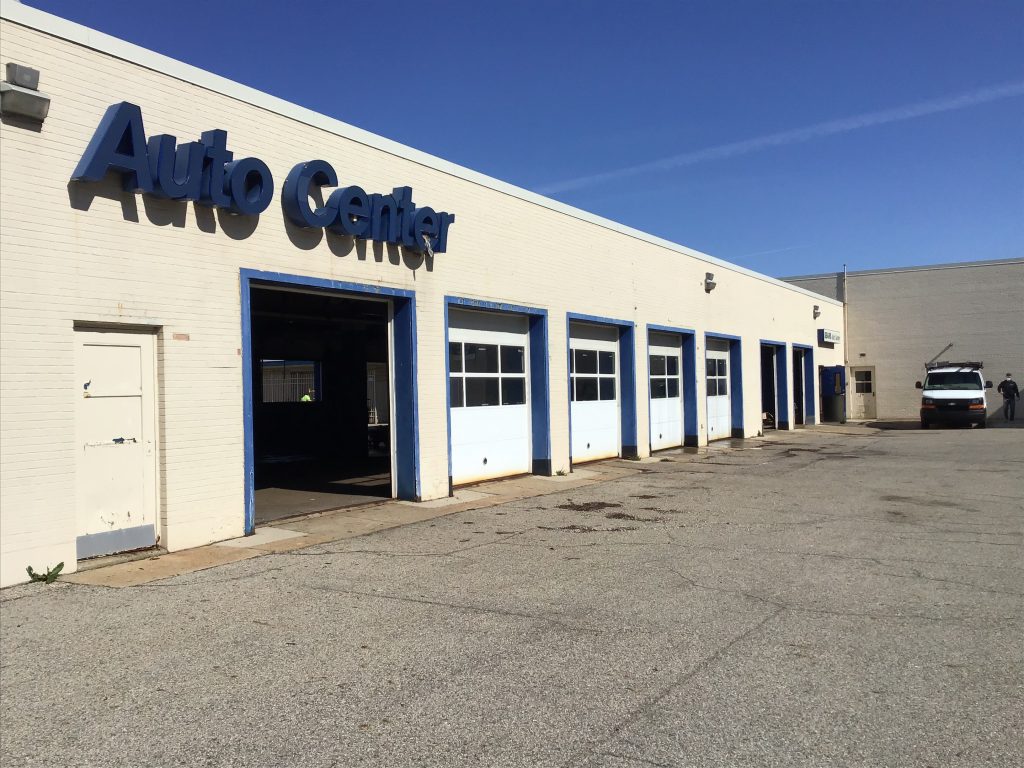 CHOOSING SEARS
"The key driver for this project was the increasing demand for COVID-19 testing and our projections that this demand would last for some time," said Jon Baker, Director of Laboratories for Sparrow Health System. Like many other healthcare providers, Sparrow had also conducted open air drive through sites prior to the Sears Center renovation. However, lack of a permanent enclosure left those testing facilities more vulnerable to variances in weather.
In addition to COVID-19 testing, Baker noted that Sparrow had also created drive-though locations for routine blood collection, "as many patients had become wary of sitting in waiting rooms."
Most of these temporary sites were located in buildings that were closed due to Governor Gretchen Whitmer's stay at home order. They included places like:
Medical office buildings
Sparrow's insurance company (PHP)
An athletic complex
Sparrow recognized that eventually these buildings would resume normal operations and would need to regain normal accessibility and traffic flow.
"Traffic patterns were a big consideration in choosing the Sears Auto Center," added Baker. "We needed to avoid backing up cars on major roads. For example, Sparrow owns a former six-bay service center at Michigan and Jerome streets, but traffic flow in that location would have been problematic. So location, traffic pattern and the relatively good condition of the Sears property were key drivers in choosing the Frandor location."
FIVE-DAY SPRINT
"This project had one of the most aggressive timelines we have experienced, including construction/renovation, IT and equipment," stated Baker.
"While Granger has completed hundreds of small and large scale projects over the years, rarely, if ever, has our team been given less than a week for a healthcare renovation," added Kissane.
Everything began Tuesday, May 12, when Granger first met with Sparrow at Lansing's Frandor Shopping Center.
"We were starting at ground zero, with no pre-construction plans," said Kissane. "Instead, Sparrow told us their vision and scope details on site, and we took notes as we walked."
Sparrow needed the site to be operational and open to the public by 6:00 a.m. on Monday, May 18. However, at this point the facility had remained untouched since Sears' closure.
"There were still barrels of oil, batteries and equipment occupying the space. But by the end of the day, Sparrow needed a full opinion on cost so they could get final approval on funding."
By 8:00 a.m. Tuesday, Granger's team and trade partners returned with materials, ready to work.
OTHER CHALLENGES
Aside from the accelerated timeline, the main challenge with this project was that it involved turning an industrial space into a healthcare facility. This meant addressing entirely new:
Safety standards
Codes and regulations
Infrastructure needs
Occupancy behavior and traffic flow
Sparrow planned to use the auto bays to facilitate drive-through testing similar to how someone might participate in a drive-through oil change. Therefore, few structural changes were necessary but nearly everything else required alterations.
As a testing facility for both COVID-19 and standard blood draws, the site required a mini lab and accompanying laboratory equipment. This meant updated electrical, mechanical and plumbing infrastructure to meet power, data, security and other requirements.
We knew at the start of the project that we needed to deal with oil on the floor. However, the quantity of oil that had occupied the space and airflow during automotive operations also meant the walls and ceiling were coated. Before we could paint the walls we needed to use a degreaser to thoroughly clean them; otherwise the paint would not stick.
LEVERAGING RELATIONSHIPS
This Sparrow project is a testament to Granger's ability to be nimble and responsive to our healthcare clients' needs. We have worked with Sparrow in the Lansing area since 1995, and the strength of that long-term relationship facilitated effortless collaboration on such a fast-paced timeline.
Granger's commitment to fostering strong relationships with our trade partners was also key. In less than 24 hours, we were able to get estimates and commitments from seven subcontractors.
R and L Painting
These subcontractors answered the call not only because of their relationships with Granger and Sparrow, but because of their commitment to the Lansing community and the importance of delivering this critical facility.
LOOKING TO THE FUTURE
Looking to the future, Kissane and his team anticipate healthcare facility needs continuing to adapt in response to the pandemic. "The more we can do to anticipate these needs, the more responsive we can be in building safer facilities quickly," Kissane stated.
Almost immediately after opening, the Sparrow Laboratories Drive-Through Services site near Frandor began setting records for administering COVID-19 nasal swab, antibody and other blood draw tests.
"We originally expected to run four bays at peak time," noted Baker. But due to overwhelming demand, the facility quickly started running all seven bays. With patients traveling from as far away as Detroit, the new Lansing site tested over 11,000 patients in its first month of operation alone. These approximately 23,000 initial tests included:
7,000+ nasal swab tests that check for COVID-19
3,300+ blood tests that check if a patient has developed antibodies to the COVID-19 virus
Numerous other blood draws for any number of other health needs and issues
"What we are hearing from our partners in the healthcare industry is that people are becoming less and less comfortable going to hospitals or clinical centers for any kind of healthcare need," noted Kissane. "One option is to continue using temporary tent setups in parking lot areas, but people are starting to want their parking lots back, and tents do not offer the same protection from the elements as a solid structure. I would not be surprised if Sparrow's drive through testing facility is just the beginning of a wave of new healthcare facilities built quickly to adapt to shifting needs."
"Sparrow has been a nationwide leader in COVID-19 testing, becoming one of the first hospitals in Michigan to offer tests for inpatients. It has been an honor working with them on this, and many other projects throughout the years, and we at Granger look forward to future opportunities of assisting Sparrow in its mission to improve the health of the people in our communities."