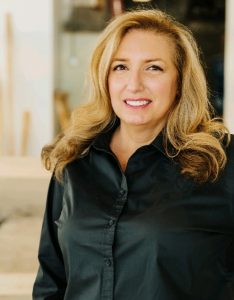 Name: Carson Lyons
Title: Superintendent
Alma Mater/Education: BS in Architecture from Lawrence Technological University (LTU)
First Year at Granger: 2019
What key factors led to your current career/role with Granger?
I have always had a passion for building. I think some things you can learn while others come more naturally, and my natural aptitudes led me to education and training that have made me successful in construction.
When I first entered the industry, I was working in a jobsite trailer as a field accountant. The accounting part I found boring, but I soon realized I was very interested in the building side of things. After being told by my employers I would never be anything beyond an accountant due to my gender, I decided to leave and go to school for architecture to pursue a career that would allow me to be the authority on the job, and people would have to listen to me.
I enrolled at Lawrence Tech. and took an introductory class in Construction Management, where my instructor turned out to be the Director of Operations at Barton Malow. At the end of the semester, he asked if I wanted to work for them, and I said, "Heck yes!"
I enjoyed an eight year career with Barton Malow, starting as Field Engineer 1, and quickly ascended through the series of Field Engineer 2, Field Engineer 3, Project Engineer, Project Engineer 2 and Project Manager. During most of that time I worked in the public schools market building K-12 facilities. In 2009, the recession hit hard and I was laid off.
After three years as a stay-at-home mom, I eased back into the workforce as a Project Manager for a kitchen construction company. We built for casinos, restaurants, bars – anyplace with a commercial stainless steel kitchen. It was nice while my daughter was young because I didn't have to work weekends or nights. But I knew I didn't want to spend the rest of my life "in the kitchen," so to speak. I also realized I didn't want to remain a Project Manager; I wanted to get back into the field and be more involved in the actual building process.
When I applied at Granger, I had never before held the title of Superintendent, but I knew this was what I really wanted to try next, and Granger gave me that opportunity. Now, I just love being here because there was a time when I started that I thought this goal was unreachable.
It doesn't always occur to someone you could have the necessary skills, everything you need, but have someone arbitrarily tell you that you can't do something. It wasn't because I wasn't smart enough, or capable enough or trained enough. I could have been a Superintendent 20 years ago. But someone else decided that wasn't for me. In the future, I hope other women and underrepresented individuals can have more opportunities than I did when I first started in the industry.
What are some of your favorite aspects about your job?
I love getting to create something tangible. I not only build things, but these are facilities people depend on – stuff that matters. I've built banks, apartments, stores. I also spent nine years building schools, and I felt very responsible. People send their kids to school with the understanding that they are safe, and I had to help ensure that was true.
At one time, natural disasters were a top safety concern, particularly with regard to assisted living facilities and senior housing. If someone's window didn't open properly and there was a fire, that could mean life or death. I felt tremendous responsibility for those things. I think building those types of facilities – senior living and schools – has been most meaningful to me. But I really love building everything.
I also love that every day brings something new. You never go on a jobsite and have it be the same as the day before. I think this is especially true for superintendents. People come with new challenges every day, and you need to be able to think on your feet and solve both immediate and long term problems.
Something else I truly enjoy, which is particular to my job at Granger, is the amount of collaboration. We have a great team with close bonds and synergy, and this makes a difference on our projects. When we collaborate with trades, owners and users, we get a better building than when it is a top-down effort. More collaboration leads to better energy on the site and better end results.
What advice would you share with others considering similar careers?
First and foremost, you need to have enthusiasm. You have to love to build. You can't do this job and be "meh" about it. You need to be eager and ready to be hands-on. This isn't something where you can sit at your desk and point. You have to dig deep and do what it takes every day.
At the same time, it's really important to remain humble. It's easy to work in an industry for years and think you have enough experience to be the authority. But there is always something new to learn. Even if it is a mistake, you can learn from that.
Beyond these two things, you also need to learn to plan. Always be present while thinking about the future. 
A lot of times when I am talking to people my brain is already thinking about next week. It is so important not to get caught off guard, and things can switch daily. You could have a plan for the next six weeks and have to change it every single day. But you can't not have a plan.
Every project has a master schedule for long term planning. I like to use look ahead schedules to keep me focused on the present and immediate future. Regular meetings are also critical. I personally hate meetings, but they are necessary to get people talking and working through constraints. Having different people in the room also brings different perspectives. For instance, if I am planning to pour a building slab and didn't think about water, insulation or underground electrical, having the subject matter experts and trade partners in the room planning with me helps catch those important details. 
What is one fun fact about yourself or your job?
I find it humorous that my parents still don't understand what I do for a living. They think because I went to school for architecture, I should be designing things. Then when I say no, they ask if I am actually wielding the tools. I guess the concept of construction management is lost on many people outside our industry. People know what a doctor is, but everyone thinks construction means someone out swinging a hammer. Now I just tell people I carry a clip board and point at stuff.
Looking to take the next steps in your construction career?
Visit www.grangerconstruction.com/careers to learn about job opportunities with the Granger team.