Granger Construction has a long-running internship program, employing college students each year in the office and on-site at various projects. Meet Rhet Schrauben, a member of Granger's 2019 Summer Internship Program.
Name: Rhet Schrauben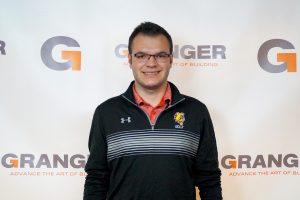 Hometown: Portland, Michigan
School: Ferris State University
Field of Study: Building Construction Technology Management
Year at School: Junior
ABOUT RHET:
2019 was Rhet's second year as a Project Engineer Intern for Granger Construction. During both summers, Rhet was stationed with the Michigan State University STEM Teaching and Learning Facility project.
"I [was] most excited about working with the same project team that I did last summer", Rhet noted. Some of Rhet's daily responsibilities during his internship have included processing change orders, handling submittals and RFI's and takes meeting minute notes.
Q: How did you decide on your field of study?
A: "I have always been involved in the construction industry so it seemed to be a good fit for me."
Q: How do you think this internship will impact your future goals:
A: "It will show me what I am good at and what I need to improve on."
Q: What is one fun fact about yourself?
A: "One fun fact about myself is that I played college golf for one year."