When world-renown London architect Zaha Hadid designed the Eli and Edythe Broad Art Museum at Michigan State University, she envisioned the building itself being a work of art that would complement the pieces that would hang from its walls. A crucial component of her modern, futuristic design was her vision of perfect, concrete surface.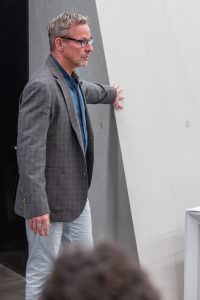 Glenn Granger, President and CEO of Granger Construction, recently spoke about the challenges and rewards of fulfilling Hadid's vision as part of the Broad Art Museum's "Altered Tour" speaker series.
Opened in 2012, MSU's Broad Art Museum features three levels of angled, concrete walls, some of which are tilted up to 70 degrees. Per Hadid's vision, these walls were designed to be a form of artwork on their own.
After months of extensive testing and experimentation, Granger Construction achieved the ultra-smooth finish of the concrete walls by using self-consolidating concrete, leading to sharper, crisper details and cleaner corners. The end result has been referred to as a "canvas of concrete," displaying perfectly smooth walls with no imperfections larger than the tip of a pen.
These architectural concrete walls can be found in only a handful of structures throughout the world, cementing Granger's longstanding reputation as self-perform concrete experts.
View more interior photos showcasing the unique concrete work below, and check out the video from the Broad Museum's "Altered Tour: The Perfect Mix."